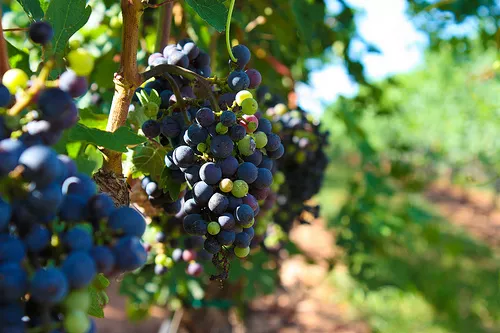 Jacob Childrey
Grapes at N.C.'s Shelton Vineyards.
We've heard this before: Wine (in moderation) is good for you. Now a study out of Spain has concluded that it may even help prevent skin cancer. So, drink up.
Here's a snippet from MSNBC.com:
Important health tip for the summer: Drink more wine! A better protection against harmful sunburns might be a healthy dose of SPF sauvignon blanc, suggests a new Spanish study.

A compound found in grapes or grape derivatives may protect skin cells from skin-damaging ultraviolet radiation, report researchers from the University of Barcelona and the Spanish National Research Council.
Read the rest of the article, by Melissa Dahl, here.
In good news, several North Carolina's vineyards are right up the road from Charlotte. Check out VisitNCWine.com to find the vineyard nearest you, and do our local farmers and your body a favor.