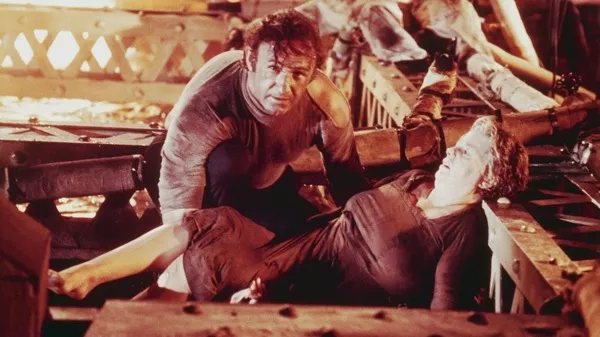 By Matt Brunson
(The Poseidon Adventure will be screened this Thursday, July 28, as part of The Light Factory's Attack of the Summer Film Series: Curse of the Remake, outdoors at the Levine Jewish Community Center, 5007 Providence Road. The film begins at sunset. Admission is free; be sure to bring a chair or blanket. Go here for more info.)
THE POSEIDON ADVENTURE (1972)
***
DIRECTED BY Ronald Neame
STARS Gene Hackman, Ernest Borgnine
Make no mistake: The Poseidon Adventure is only a "classic" in the sense that many folks still instantly recognize its title (thus attesting to its longevity), not because it's some masterwork on the order of a genuine classic like Jaws. But that's not necessarily meant as a put down.
The Poseidon Adventure is very much a kitschy product of its time, as readily identifiable of the '70s as, say, the "duck and cover" drills from the 1950s or Members Only jackets during the 1980s. The much maligned subgenre known as the "disaster flick" began with 1970's Airport and ended with 1980's aptly titled When Time Ran Out. In between, audiences were subjected to all manner of catastrophes — earthquakes, avalanches, meteors, killer bees, you name it — faced by each picture's tantalizing mix of A-list and Z-list actors.
Most of these films weren't especially good — some were downright awful — but there was a certain cheery cheesiness about them that allowed for easy digestion. The effects were often of wavering quality, the acting was of even greater wavering quality, and the death sport encouraged by each film (who will live and who will die?) proved to be no more weighty than the high mortality rate in such WWII actioners as The Dirty Dozen.
The Poseidon Adventure was one of the first of the '70s disaster flicks and it arguably remains the best. Based on Paul Gallico's novel, it tracks the efforts of a group of survivors who try to make their way to the surface after an enormous wave flips over their luxury cruise ship.
Admittedly, dialogue isn't this movie's strong point, and neither are the ripe performances by some of the cast members: Hammy Ernest Borgnine, as a belligerent cop, does enough acting for everybody aboard the damn boat. But other cast members are better than one might expect in this sort of throwaway fun. Top-billed Gene Hackman, one of the finest actors of his generation — heck, of any generation — followed up his Oscar-winning work in The French Connection with a committed performance as the maverick priest who repeatedly questions and challenges God's authority as he tries to lead his flock to salvation above water. It's an unusual role brought to life by an excellent performance. Red Buttons is similarly fine as a health nut whose eternal optimism goes a long way toward keeping the others focused. And while I generally can't stomach Shelley Winters (Oscar-nominated for this film), she clocks some effective moments as a kvetchy Jewish woman convinced that her ample size will doom her in the fight for survival.
Efficiently directed by Ronald Neame, The Poseidon Adventure also benefits from its spectacular technical attributes, especially its imaginative set design (everything had to be mapped out and then constructed upside down). The Oscar-winning visual effects hold up; the Oscar-winning song "The Morning After" does not.
This was remade in 2006 as Poseidon, a wretched version of this waterlogged tale starring Josh Lucas and Kurt Russell. The original Poseidon Adventure was itself followed by the 1979 afterthought Beyond the Poseidon Adventure, a silly sequel with Michael Caine and Sally Field.