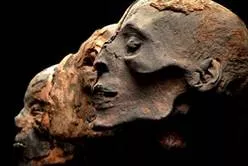 In case you haven't heard, Discovery Place is all wrapped up with its upcoming exhibit Mummies of the World. The traveling showcase - on an exclusive seven-city only tour that stops into Charlotte on Nov. 11 and continues through April 8, 2012 - is comprised of 150 human and animal specimens and related artifacts from across the globe. An infant mummy dated as being almost 3,000 years older than King Tut, a mummified family discovered in an old crypt in Hungary, and an Egyptian crocodile corpse are among some of the many deadly delights.
The idea for the exhibit began in 2004 with the German Mummy Project's rediscovery of 20 specimens at the Reiss-Engelhorn Museums in Mannheim, Germany. Scientists used DNA analysis, magnetic resonance imaging (MRI), computerized tomography (CT) scans, radiocarbon dating and mass spectrometry to learn more about the mummies, while gathering other mummies from 21 world-renowned museums, organizations and collections in seven countries.
Through tedious research the causes of death, as well as ailments and illnesses have been identified in many of the mummies. The exhibit allows for visitors to learn more about the process of mummification and the history and origins of the mummies with multimedia, hands-on interactive stations and 3D animation.
Like past traveling exhibits (such as Dead Sea Scrolls, Body Worlds and A Day in Pompeii) at Discovery Place, Mummies of the World will have special ticketing and timed entries. Tickets are on sale now and can be purchased by calling 704-372-6261, ext. 300. For more information, visit www.discoveryplace.org.