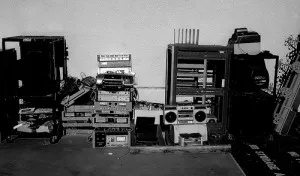 Please be aware of this new regulation:
The North Carolina's Electronic Recycling Session Law 2010-67 (Senate Bill 887) Disposal Ban mandates that on July 1, 2011, the disposal of discarded computer equipment and televisions is prohibited in North Carolina landfills. The law was approved in July 2010 by state lawmakers and regulates the disposal of electronic equipment.

The disposal ban is not expected to have an impact on Solid Waste collections operations or 311 call volumes. Currently Solid Waste Services provides collection services for bulky items and white goods. White goods – large household appliances such as refrigerators, stoves, air conditioners, and washing machines – are taken to a facility where they are recycled. Non-recyclable bulky items are taken to the landfill.

Solid Waste Services has coordinated with Mecklenburg County to dispose of discarded electronic equipment using a method compliant with the new legislation. Electronic items will be separated and taken to the white goods facility for processing. Citizens may also utilize County recycling centers or Goodwill Industries locations to dispose of electronics. To see a full list of banned landfill items and disposal locations, please visit http://portal.ncdenr.org/web/wm/sw/electronics.

Source: Council-Manager Memo 6/22/11
This is actually a good thing, as Shannon Binns from Sustain Charlotte explained in a recent e-mail:
Electronic waste is the fastest growing component of the waste stream. It is accumulating three times as fast as other wastes. Yet e-waste contains many toxic materials such as lead, mercury, and chromium that cannot be safely disposed of in landfills because these toxins can leach into the surrounding soil and water table. Equally important, the resources used in electronics are extremely valuable and can be used again in new products so banning their disposal in landfills keeps those resources flowing through our economy and creates jobs in the recycling industry.
And Shannon's not just yammering; he knows what he's talking about. Here's a link to a report he wrote about e-waste back in 2006, if you're interested in digging into the issue.