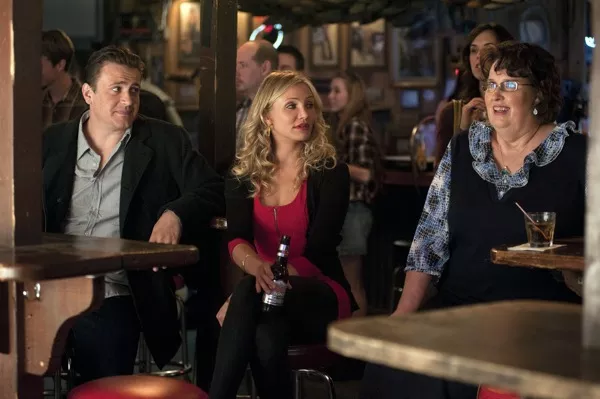 By Matt Brunson
BAD TEACHER
**1/2
DIRECTED BY Jake Kasdan
STARS Cameron Diaz, Justin Timberlake
It's no Bad Santa, but Bad Teacher brings just enough naughty behavior to the table to make it a decent watch for viewers tired of PG-13 timidity.
In her best role since 2005's underrated In Her Shoes, Cameron Diaz plays Elizabeth Halsey, a gold-digging middle-school teacher who, having just been dumped by her wealthy fiancé, sets her sights on substitute teacher Scott Delacorte (Justin Timberlake), who happens to be the heir to a watch-making dynasty. Elizabeth is manipulative, deceitful, insensitive and lazy (each class period is spent with the students watching a school-themed film like Stand and Deliver or Dangerous Minds while she tries to get over a hangover), and she's forced to use all her cunning to dislodge Scott from the grip of a perpetually peppy teacher named Amy Squirrel (Lucy Punch). Meanwhile, nice-guy gym teacher Russell Gettis (Jason Segel) hangs around, hoping to get past Elizabeth's obvious disinterest in him.
Hollywood, which fashions itself as a bearer of moral messages, usually feels the need to take down its flawed characters before the closing credits, with the arrogant/narcissistic/self-centered protagonist miraculously transformed into a wellspring of small sacrifices and big embraces (e.g. half of Jim Carrey's canon). To its credit, Bad Teacher doesn't resort to such shameless pandering: Like Billy Bob Thornton's Willie in Bad Santa, Diaz's Elizabeth Halsey bends but doesn't break, and the film has no need to automatically punish the wicked for their indiscretions. On the downside, the combination of a short running time, often erratic pacing, and a number of red-band-trailer moments conspicuously missing from the finished piece suggests that the studio ultimately didn't have quite enough faith in the picture to let it all hang out. This Bad Teacher is amusing enough to earn a passing mark, but we'll have to hope for an unrated director's cut on DVD/Blu-ray in order to fully gauge this school project's merit.