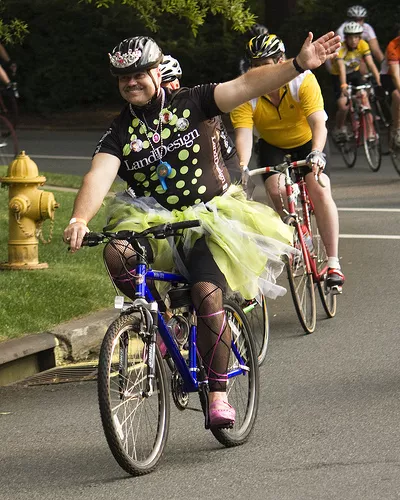 From Charlotte's 24 Hours of Booty, Circa 2008 (Photo credit: G.H. Holt Photography)
That might be difficult to understand in some areas of Charlotte where bike riders are seemingly everywhere and our greenways are car-free, but according to the 2011 NCDOT Statewide Questionnaire on Bicycle and Pedestrian Safety, people don't feel safe riding bikes or walking in North Carolina ... and that's a super shame, especially since the respondents say that walking or biking contributes to their quality of life.
We keep talking about making Charlotte a "green energy hub." In order to do that, we have to learn how to conserve energy, drive less, and walk or bike more. In other words, we have a long, long way to go if people don't feel safe walking or biking in their own communities. Or, as with my community in northwest Charlotte, they don't feel safe walking or biking outside of our sidewalk-lined streets. (The sidewalks end at the 'hood's edge.)
Fortunately, the N.C. Department of Transportation plans to use this feedback for future planning.
Here's the summary:
In North Carolina, a number of factors – including increasing public interest in bicycle and pedestrian transportation, a growing population, elevated rates of adult and childhood obesity, and a high number of pedestrian crashes and fatalities – indicate a need to address bicycle and pedestrian issues on a statewide level. In recognition of this need, the N.C. Department of Transportation led a statewide public involvement effort this past winter to identify problems and prioritize solutions specific to bicycle and pedestrian safety.

The first part of the effort was a survey administered by NCDOT that generated more than 16,000 responses. The survey found:

72 percent of the respondents do not feel it is safe to bicycle in their community for recreation or daily needs. A lack of on-road bicycle lanes was cited as the top issue and most-needed safety improvement;

Less than 43 percent feel it is safe to walk to destinations in their community for daily needs, with a lack of sidewalks cited as the top safety issue; and

More than 90 percent said having a safe bicycle and pedestrian network contributes to their personal well-being and quality of life.

The public outreach process also included a series of discussions held at various locations across the state with law enforcement, public health professionals, engineers, planners, business owners and advocates. These sessions led to the development of strategies to address challenges related to bicycle and pedestrian safety.

"Our citizens have sent a strong message about what they want," said Deputy Secretary of Transit Jim Westmoreland. "The results of this outreach campaign underscore the importance of NCDOT and local communities collaborating on bicycle and pedestrian planning and identifying funding to meet critical needs; and additionally, will play an important role as we develop a plan for our state's transportation future."

The highest priority identified was a comprehensive implementation of NCDOT's Complete Streets Policy at both the state and local level. Adopted in 2009, the policy demonstrates the department's commitment to designing roads that enable safe access for all users.

Other strategies centered on:

Education and awareness programs;

Policy updates and funding initiatives;

Infrastructure needs;

Improvements through legislation and enforcement processes; and

Better interagency coordination to connect land use and transportation planning.

The results of these statewide discussions will be used to support planning, decision-making and future investment in the state's bicycle and pedestrian network. Specifically, the results will be incorporated into the department's 2040 Plan for the state's future transportation network, which is currently being developed.

To learn more about the findings of the online questionnaire or the regional roundtable discussions, read the full report, "Bicycle and Pedestrian Safety Strategies in North Carolina: Statewide Input and Priorities," on the Division of Bicycle and Pedestrian Transportation website.

The outreach campaign was administered by NCDOT in partnership with the Institute for Transportation Research and Education's Bicycle and Pedestrian Program at N.C. State University. For more information, contact Helen Chaney at (919) 707-2608 or hmchaney@ncdot.gov, or Sarah O'Brien at (919) 515-8703 or skworth@ncsu.edu.
Read the report here.