Check out these events going down in Charlotte and the surrounding area this weekend— as selected by the folks at
Creative Loafing.
Friday, June 17
An Evening of Live Dance
Green Rice Gallery
Art and movements collide as Annie Vereen and Jack Kirven of the Viscera Dance Theatre — known for modern, sometimes exotic dances — perform three original works (titled "V&B," "seVen" and "Suites for the (Bitter)sweet: Codependence") every half hour during NoDa's Gallery Crawl. Coinciding with the gallery's Blurring the Lines exhibit, the performance is described as reflecting "a darkly dramatic aesthetic to the dialogue within our culture concerning the violence and socio-political structures that shape and identify our own sexuality." Sounds interesting to me.
• Theater There's nothing like company bankruptcy to put one on the edge. Add to that a failing marriage and the stress-o-meter rises, finally topping off with the discovery of an unplanned pregnancy. Undine, the main character of On Q Productions' final show of the season, Fabulation or The Reeducation of Undine experiences all of this and more. When forced to leave her highfalutin lifestyle and return to her humble family, she learns a valuable lesson about kinship, love and life. Written by playwright Lynn Nottage, the humorous production takes a satirical look at African-American identity. more...
• Art The community-based Project Art Aid will auction off over 200 original pieces of art to raise money for the American Cancer Society's Making Strides Against Breast Cancer. The 12"x12" works are mostly painted with shades of pink. The event will also feature food and beverages, as well as the unveiling of a collaborative mosaic made of 100 6"x6" canvases and assembled in the shape of a heart. more...
Saturday, June 18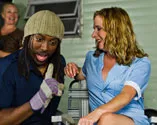 Neon Psalms
Carolina Actors Studio Theatre
CAST has moved on from its Plaza Midwood location. Now, you can find the theater production company causing trouble over in NoDa (in the same complex as Amelie's French Bakery). Its latest play by Thomas Strelich is set in a trashy trailer home in the desert of California. Revolving around a family (Luton Mears who is obsessed with turtles and Bonanza, his wife Patina who is a religious fanatic and their daughter who has a bad reputation), the black comedy is set to pose the question: "Is there a substitute for the love of another human being, and if so, what is the price exacted?"
• Music The economy still sucks, and unfortunately its taken its toll on Charlotte Symphony. This year — unlike all the years past — it will be charging a fee for its annual Summer Pops outdoor concert series at Symphony Park. Luckily, tickets are only $10 (and free for children under 18 years old), a small price compared to the show's actual worth. This weekend, there are two shows to choose from. Saturday's "Overtures Under the Stars" program will be conducted by Jacomo Bairos, while Sunday's "Musical Travels" program is conducted by Albert-George Schram. more...
• Film The fiercest divas are invited to watch or compete in the Fashion Democracy "Fashionistas Rule" Model Competition at CenterStage@NoDa. Sixty chosen models must channel their inner Tyra as they are judged in the categories of swimwear, casual and formal wear. For those who would rather watch than compete, come out to cast a vote for the top 10 models who will go on to duke it out for cash and other prizes. more...
Sunday, June 19
Same Time, Next Year
Theatre Charlotte
Bernard Slade's 1975 Broadway comedy Same Time, Next Year is not your typical romance. The play chronicles two lovers (both of whom have children and are married to someone else) who have an annual affair. Over the course of 24 years they find the time to meet for a romantic getaway. But what starts as a lusty attraction soon becomes an emotionally intimate relationship as they share the humorous, joyful and sometimes tragic events of their lives.
• Music Swingin' Utters, a long-running San Francisco outfit lays down a combo of Oi and old-school street punk cred with Irish drinking music tossed in for good measure. The gravelly lead howler spars with the rousing guitars for a snappy time in any given pub. They are touring (and stopping in at Tremont Music Hall) after eight years in between records in support of the newly released stack o' tunes called Here, Under Protest. Also on the bill are Have Nots and Continental. more...
• Food Table 274 spotlights local foods with a selection of pastas and an excellent cheddar cheese bacon burger with basil and tomato. The most satisfying dish is the roasted chicken nestled on a bed of Anson Mills farro laced with artichokes and red peppers. more...