Taylor Mac (photo by Ves Pitts)
Three months into my 25th year of covering the performing arts across the Carolinas, I was surprised by a sequence of events at Spoleto Festival USA that had never happened to me before. Walking down the aisle of Emmett Robinson Theatre, performance artist Taylor Mac accosted me – during his show – curious about why and what I was writing. I'd never been challenged on my note-taking before.
It quickly clicked for him. "Oh, that's your program that you're writing in. That's cool."
And then he called me "Honey." Also a first.
Hard to maintain my façade of objectivity after such a flagrant flirtation, but I'll try. There certainly is a more relaxed atmosphere down in Charleston as Spoleto explodes into its 35th season. Dianne Reeves sang gloriously at Gaillard Auditorium, without the slightest show of her notorious temperament – why, she never even referenced the Confederate Flag or the city's celebration of the 150th anniversaries of secession and that incident at Fort Sumter. Hush my mouth, but I never dreamed the belle Reeves could be so mellow.
At the renovated Dock Street Theatre, you can escape the city's sweltering heat in the comfort of a quiet new air-conditioning system, with young Geoff Nuttall in charge of the daily chamber music concerts for his second season. Also docking at the Dock are productions of Martin McDonagh's The Cripple of Inishmaan and festival founder Gian Carlo Menotti's one-act opera, The Medium.
Memminger Auditorium shed its spooked warehouse ambiance in 2008 after an exciting renovation and has now become the Festival's choice venue for edgier behemoths. Kneehigh Theatre's takedown of Hans Christian Anderson's The Red Shoes is yonder throughout the festival, and the American premiere of Kaija Saariaho's Émilie peeps in there for one more performance this Saturday, conducted by Spoleto's devout modernist, John Kennedy. I'll be catching that show at the Memm this weekend along with the Aussie invasion of the Circa circus.
After a two-year hiatus, Sottile Theatre is back in the mix while in mid-renovation with a tech-heavy production of Mozart's lighthearted Die Zauberflöte. That's great news because, after Dovetail Productions' The Gospel of Colonus finishes tearing up the place this weekend, Gaillard Auditorium goes into hibernation until 2015 as it undergoes a radical conversion from airplane hangar to theater complex.
Meanwhile, here's the rundown on the theater and opera we've seen so far.
Theater
Comparison Is Violence – Emboldened by the Festival's invitation to return after his 2008 debut, Taylor Mac declared, "This is my festival now, bitches!" in renaming it the Stiletto Festival. Mac mixed his own scripted material with finely honed ad-libbing and a songlist of original or borrowed tunes that reflected his subtitle, The Ziggy Stardust Meets Tiny Tim Songbook. Mac's beef was that wearing glitter and strumming a ukulele weren't sufficient grounds for comparing him to – and tacitly dismissing him as an imitation of – David Bowie or Miss Vicky's dearly beloved. At times, Mac's vocal style did resemble a Tiny Tim who had been possessed by a rabid demon, but the more terrestrial sources of his inspiration were clearly the vibrato excesses of Patti Lupone and Liza Minelli.
As it was when he unleashed The Be(a)st of Taylor Mac three years ago, "The Revolution Won't Be Masculinized" was the most memorable of the performance artist's originals. Yet the rendition was more tasteful and subdued than the 2008, when Mac donned a ginormous set of singing boobs to make his points. Other side-splitting moments more than took up the slack. While there was still a sedition-meets-sequins dimension to the show, Mac was far more comfortable circulating among the crowd and interacting with us. Yet he was clearly not altogether pleased with his fringe status or his latenight 10pm timeslot.
"Next time, it's 8 o'clock, bitches!" I'm betting he'll have his way.
The Cripple of Inishmaan – Sure, my wife Sue and I saw the Druid Theatre Company production, fresh from the old sod of Galway, at Atlantic Theatre in New York two years ago. But although the sets and costumes by Francis O'Connor have the same look, this is not the same Druid production, with only two of the cast members reprising their roles. Nor can Dock Street match the grubby Atlantic ambiance where Spring Awakening was born.
Directing her 3/4-new cast, Druid founder Garry Hynes secures all the biting humor that delighted me and the New York critics, nearly all the squalid cruelty, and nearly all the many effects playwright Martin McDonagh wrings out of combining the two. The only big mistake Hynes makes this time is replacing the award-winning Aaron Monaghan in the title role with Tadgh Murphy. This Cripple Billy's limp doesn't constantly break his body into three pieces, and Murphy doesn't look like the son of a mean, ugly mother who "could scare a pig."
Murphy's passable looks diminish the desperate pity factor as poor Cripple Billy aspires to a role in Man of Aran and, against all logic, gets handed a ticket to a Hollywood screen test. But the petty, mean-spirited bumpkins that surround him are all hilariously annoying and Cinemascope vivid. Dermot Crowley is wondrously venial and heartless as town tattler JohnnyPateenMike, a rascal who serves as a perfect personification of self-important, self-serving journalists, while Clare Dunne as Slippy Helen eclipses run-of-the-mill town sluts with a panoply of childish, vulgar, and butch dimensions.
Billy still can't get enough of Helen's abuse, one of the key reasons why Cripple of Inishmaan is so funny, sad, and satisfyingly true. (Through Sunday)
The Red Shoes – You had the right idea if you brought a healthy appetite for perverse theatricality to this bizarre retelling of Andersen's disturbingly Christian tale. Otherwise, you might have tried to puzzle out why all the actor/storytellers greeted us in their underwear, why they carried suitcases bearing the names of characters and props, or why Patrycja Kujawska, the girl who is bedeviled by her sacrilegious dancing shoes, has a buzzcut to look like the other guys.
Better to take these perversities as invitations into a dreamworld of tawdry, ghoulish, and religious imagery, for it was Kneehigh director Emma Rice's intent to affirm the powers of fairytale and myth while mocking, distorting, and even orchestrating their details. I found parts of the parable tedious, and there were some folk – either scandalized by the Christian parts I found boring or appalled by the amputations I found charming – who walked out. You have to walk up in front of the audience to do that at Memminger, so these malcontents became a delicious part of the spectacle.
Performances were superb in a devout Eurotrash comedic style, with Dave Mynne, Robert Lackay, and Mike Shepard all in multiple roles as figures in the girl's harrowing odyssey. As Lady Lydia, our narrator in furs and wig, Giles King had an outré charisma that didn't fall too short of Taylor Mac's.
Opera
Die Zauberflöte (The Magic Flute) – Back in the days when Julie Taymor was revered for her Broadway realization of The Lion King – and not reviled for her complicity in Spider Man Turn Off the Dark – she conceived a Magic Flute for the Metropolitan Opera that was pure enchantment with a gossamer sprinkling of comedy. Now at Spoleto, directors Patrice Caurier and Moshe Leiser have flipped that formula upside down, piling on the shtick and comedy with occasional injections of whimsy and wonder.
Papageno makes his entrance with real birds – inside and outside his wooden birdcage – and the Queen of the Night rides in on a glowing moon. Fittingly, the vocal stars of this production get these starry entrances, baritone Ruben Drole as triumphant in his showcase arias as he is in the comedy and Audrey Luna a queen of coloratura. The magic flute floats through the air into Tamino's hands as he sets off in quest of the Princess Pamina, and three children fly in from the wings playing the Three Spirits who watch over Tamino and Papageno on their adventures.
Comedy and magic combine most effectively in Papageno's suicide scene as a rope hangs down from the flyloft while, at the other end, Papagena (the chirpy Greta Feeney) rises through a trapdoor to save him. Those traps get quite a workout throughout the evening, but they get most heated up from the moment Tamino embarks on his climactic trials at the Temple of Sarastro.
Caurier and Leiser do lose their way when we reach Sarastro's realm. I didn't mind the awesome priest on stilts, but the idea of dressing him and his followers in business suits added a drab element to Pamina's parentage that plainly flouted Mozart's intent. With the lackluster Marie Arnet as Pamina, Tamino's exploits and trials were further upstaged by Papageno's exploits and Drole's vocal bravura, but I really couldn't find fault with Fabio Trümpy as Tamino. I've heard worse tenors in lead roles at the Met.
No, the only glaring vocal disappointment in the cast was Beau Palmer as Sarastro's bestial slave, Monostatos – not the ideal role if you can't muster the same volume level as your colleagues. But Caurier and Leiser have too much up their sleeves for that to matter much. This directing team showed they had a special touch at Sottile Theatre in 2007 with The Rise and Fall of the City of Mahagonny. Now they've done it again. (Through Saturday)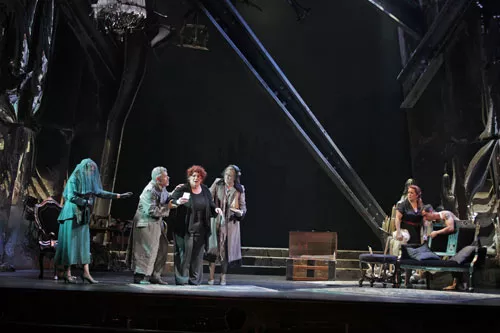 (photo by William Struhs)
The Medium – Taking complete control over set and costume design, director John Pascoe has transported Gian Carlo Menotti's most successful opera to a surreal, post-WW2 setting that resonates wonderfully with the spiritualism and guilt that haunt the composer's libretto and score. The ceiling is so high and the doorway so wide that Madame Flora's séance parlor might as well be a warehouse taken over by Gypsy squatters. When that doorway opens, bombed out shells of buildings, a la Dresden, form the cityscape.
Conducting the Spoleto Festival USA Orchestra, Joseph Flummerfelt's grasp of the score is as sure as Pascoe's grip on the guignol. But with all its scenic and sonic attractions, questions will still remain open on whether this quickie disintegration of a woman who professes to call up the dead is great opera. Barbara Dever certainly gives as fine an account of Flora's passions and powers as we're likely to hear anywhere. Her patsies are all sung well enough, Stephen Bryant and Caitlin Lynch as the Gobineaus, Jennifer Feinstein as Mrs. Nolan, but none of them is fully developed and they're not fully entwined into Flora's disintegration with the force of a master dramatist.
As for Flora's daughter Monica and the mute servant boy Toby, Flora's partners in sham, Pascoe fiddles with the scenario at the end, so we don't really get to see how the maestro's way with the medium's paranoia works out. Further clouding the issue was Jennifer Aylmer as Monica. When she sang "Monica's Waltz," we missed the fruity jeunesse that Renée Fleming's recording gave this aria, and at other times, we simply missed the words.
Fortunately, the medium delivers most of the message, and Dever is always on the same page as Flummerfelt and Pascoe. (Through Friday)