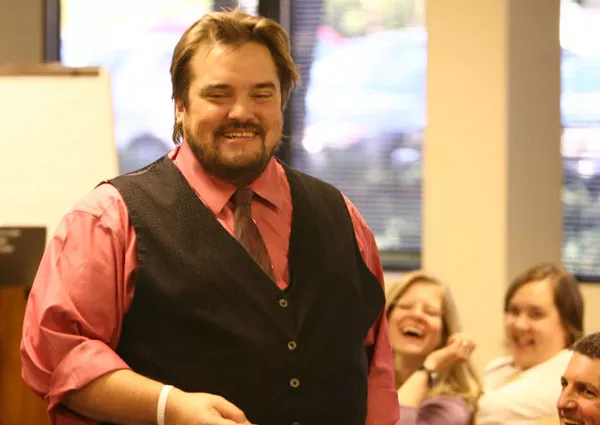 As a professional magician, Charlotte native Chris Hannibal does more than just pull a rabbit out of a hat. With over 20 years of performance experience, Hannibal has travelled all over the world, performing shows that have a unique motivational element for audiences. And with his upcoming show "Parlour Magic: An Evening of Intimate Astonishment" at CenterStage at NoDa, Hannibal hopes to make a personal impact on a hometown audience that he holds a little more dearly to his heart.
Creative Loafing: How would you describe your type of performance?
Hannibal: The magic that I do is more close-up and parlour style. It is a very intimate form of magic. It's not big stage boxes and big bright lights and dancing girls and stuff like that; it's a very old vaudeville style performance. It's not just a magic show; it's a one-man play about the storytelling aspect of what my grandpa taught me, and he taught me most of what I know. He was in the circus back in the 1930s and he learned sleight of hand from con artists and street hustlers, so he taught me basic sleight of hand and it kind of stuck. And I was good at it.
How do you incorporate your personal background into the show?
I tell the story of how my grandparents met. She was the daughter of a palm reader, and my grandpa was travelling with the circus that went through her town and they met by accident. When he spoke to her father, he [her father] insisted that my grandpa be able to read his mind before he let them court or date each other. Based on his street experience, he was able to fool my grandmother's father into letting them see each other.
You label your performances as "unique motivational theater." How do you incorporate motivational speaking into your magic show?
Most of the work that I do is done for corporations. The inspirational part comes in with the fact that I started off as a street performer, and I was able to take those skills and incorporate it in to moving up in to country clubs, restaurants, dinner theatre, and eventually the corporate marketplace, and now those same lessons I learned on the street take me all over the world. I talk to corporations from all walks of life.
As a Charlotte native, do you often do shows here?
I rarely do shows in Charlotte. It's odd, I live here, I was born and raised here, but it's very rare I get a corporation event in the Charlotte area. I don't think my hometown has really discovered me yet, so the point of me doing this show at Center Stage is just to put it out there.
According to your blog, you often donate your earnings to organizations that help those in need. Why is this important to you and will you continue to try and help?
I will always try to help out these organizations. I get to travel around the world and do magic tricks, and that is such a blessing on me that it would be wrong not to give something back. And the one thing I'm good at it is this show, so if my show can raise money for somebody in need or make somebody smile that needs a smile, for him or her it's worthwhile, so I'll always give something to somebody for what I do.
Hannibal will perform "Parlour Magic: An Evening of Intimate Astonishment" at Center Stage NoDa on 2315 N. Davidson St. Suite 26 on June 3 and June 10 at 7 pm. Tickets are available at http://ticketderby.com/vendor/-id-1072.