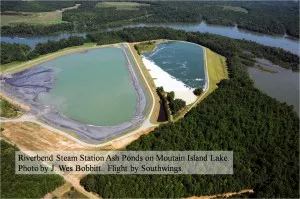 These two high-hazard, unlined coal ash ponds drain into the water that likely pours from your faucet. Drink up!
I've been thinking about what I'd write about the EPA's failure to keep its word (agency officials said they'd rule on coal ash regulations in December 2009 and still haven't) for a couple of days.
The only thing I can think to tell you, though, is this is Washington's typical business-before-people bullshit and the EPA is disappointing the president's base in the run up to the next election. Smart.
From The Center for Public Integrity's iWatch newssite:
The operators of at least 70 facilities that store coal ash , the waste byproduct of coal-burning power plants, have crafted safety plans to better prevent the sort of catastrophic accident that flooded Tennessee properties with toxic sludge three years ago.

The Environmental Protection Agency this week released the plans, saying they were an important step toward improving coal ash storage and avoiding a repeat of the 2008 Kingston, Tenn., disaster.

"EPA is committed to making communities across the country safer places to live," said Mathy Stanislaus, assistant administrator for EPA?s Office of Solid Waste and Emergency Response. "The information we are releasing today shows that we continue to make progress in our efforts to prevent future coal ash spills."

The plans were crafted by 20 electric utility facilities that operate 70 coal ash impoundments, the agency said.

The new plans come as EPA weighs whether to treat coal ash as a hazardous product that would garner further regulation, a move opposed by some utilities and states. Alabama, for instance, is urging the agency to continue to treat coal ash as a non-hazardous waste product.
Read the entire post, by John Solomon, here.
And read our cover story from September of last year on coal ash: Is coal ash poisoning Charlotte-area drinking water?