Check out these events going down in Charlotte and the surrounding area this weekend— as selected by the folks at Creative Loafing.
Friday, April 22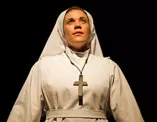 Agnes of God
Carolina Actors Studio Theatre
Let the battle between faith and reason begin. Playwright John Pielmeier wasn't afraid of putting two doses of religious phenomena (a virgin birth and stigmata) into his play Agnes of God. It all centers around a newbie nun who throws her dead baby (whom she says was conceived without intercourse) in the trash. When the crime is discovered, Dr. Martha Livingstone is assigned to investigate, but quickly finds herself clashing with the stubborn miracle-believing Mother Superior who insists on the nun's innocence.
• Film Dog lovers get a special treat tonight. A screening of My Dog Tulip — an animated love story between British author J.R. Ackerley and his adopted German shepherd, Tulip — will take place at Hodges Taylor Art Consultancy. A classic tale of man's best friend, the film explores the companionship and bonds that form between dogs and their owners. more...
• Dance Winthrop University's Dance Theatre students get the chance to show off all they've learned over the semester during the Student Choreography Showcase. Choreographed by advanced dance majors, the special spring showcase features a diverse variety of styles. This includes modern, jazz, hip-hop and more. Join them as they take the stage, bringing the semester to close one step at a time. more...
Saturday, April 23
Plaza Midwood Spring Party
Petra's Piano Bar
Hosted by local musician Jon Lindsay, it's set to feature a load of live music (by Lindsay, Jay Garrigan, Miles Swartz, Anna Bullard, Eston Dickinson and the Swaggerettes, Jack The Radio, Old Bricks, Jon Lindsay, The Catch Fire, The Loudermilks, The Houston Brothers, Jeremy Shane), visual art (by Kelly Keith and Alexis Owen) and a dance party with a guest DJ. But, no outdoor fest is complete without the cookout, right? No worries; it'll be there. But because the economy still sucks, condiments are the only things being provided. This is strictly BYOM: Bring Yo' Own Meat.
• Music In the mood for some feel-good jazz? Then you'll want to hit up Duke Energy Theatre tonight when the Charlotte-based Groove 8 performs in celebration of its fifth anniversary. After spending a chunk of time on the road for a national tour, I think the group has earned a solid welcome back. This concert will also be part of a live recording and those attending will receive a special gift from the band. more...
• Art Death Beauty Rescue, featuring Artworks 945 and live music from Seahorses is set to go down tonight at Warehouse 242. New works by David Allen Goldberg, Mervin Austin and more will be on display. more...
Sunday, April 24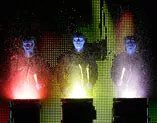 Blue Man Group
Belk Theater
Looking like something from another planet, the phenomenal Blue Man Group makes a landing at Blumenthal. Using music, comedy and stage props, the performance art trio has made its mark. They don't speak, but as the ol' saying goes: "Actions speak louder than words." In this case, the technological theatrics and utter goofiness say it all. Drumming, audience interaction and psychedelic skits make the show as groovy as it is engaging.
• Food Stop in for a snack at Bollywood Bites. The all-vegetarian and vegan menu offers a litany of street foods, curries, daals, rice dishes, breads and drinks from across India. Crispy samosas and tikka masala are flavorful favorites. more...
• Art Evergreen Studios' Images From Kalimantan exhibit features photography by Jay Weinmiller. He traveled to Borneo to capture images of former black market baby orangutans as they were reintroduced to the rainforest. more...