NC Policy Watch today points out what may be the weirdest bill, or at least the most mystifying bill, yet proposed in this session of our new, thrill-a-minute, Tea Party-led legislature. Remember, any contender for the Legislative Crazy Award has to contend with Rep. Glen Bradley, who a month ago, introduced a bill to let N.C. issue its own, gold-backed currency. Today's challenge to Bradley's goofball supremacy comes from state Sen. Andrew Brock of Mocksville. Brock, who usually can be found thinking up new ways to keep women from choosing what to do with their own bodies when they get pregnant, has now proposed a bill that would, well, I'm not sure what it would do, exactly. Or what it would outlaw doing. Or why or when the law Brock is proposing would ever be needed. See if you can figure this out; here is Brock's proposed law, verbatim:
AN ACT TO PROHIBIT HEALTH CARE PROVIDERS FROM QUESTIONING PATIENTS ABOUT LAWFUL ACTIVITY RELATED TO FIREARMS AND AMMUNITION WHEN PROVIDING HEALTH CARE TO PATIENTS AND TO AUTHORIZE THE IMPOSITION OF A FINE ON HEALTH CARE PROVIDERS WHO ENGAGE IN THE PROHIBITED CONDUCT.
OK, so, the way I'm reading the bill, if someone comes into the emergency room and his 5-year-old son has a bullet in his leg, a doctor can't even ask the guy whether he keeps firearms in his house? Jesus, have all the 2nd Amendment folks lost their collective minds, or is it just Brock? In any case, Brock likes to boast that he is rated the most conservative member of the state senate and the most business-friendly, but he may now want to apply for the N.C. Senate's Most Fucked Up Priorities Trophy. I'd say he's got a great chance to win.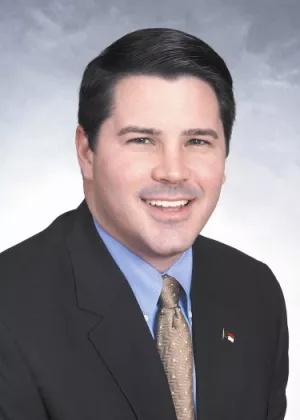 N.C. state Sen. Andrew Brock