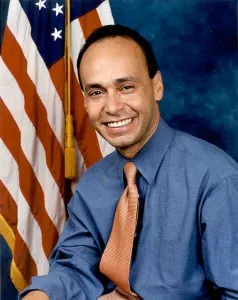 Rep. Luis Gutierrez (D-Ill.)
A Congressman from Illinois is in town today to talk about a big dream for this country: Immigration reform and the DREAM Act — aka the Development, Relief and Education for Alien Minors Act.
If you're not familiar with the DREAM Act, you can read about it here. To sum up, it was created with the children of immigrants in mind as a way to help them become citizens in a country that is their home. Many of these children were brought to this country by their parents before they had a choice in the matter; this is where they've grown up and this is where they want to stay.
But those interested in participating in the DREAM Act aren't just asking to stay, they're asking for a way to citizenship that will allow them to not only better themselves but to become productive citizens. They want to educate themselves or serve in our military.
Fredd Reyes is an example of just such a student. This is what we wrote about Fredd last November:
A young man, Fredd Reyes, who has lived 22 of his 24 years in North Carolina is now awaiting deportation in a for-profit prison in Georgia, which only makes the headlines for abusing inmates, because his parents brought him to the United States as a child. Despite the fact that they came here from Guatemala after facing death and persecution, a federal judge denied their request for asylum in 2000.

Reyes earned his Associates Degree from Davidson County Community College and later transferred to Guilford Tech. The morning he was arrested by Immigration and Customs Enforcement officers, who knocked on his door at 5 a.m., he was supposed to take an exam.

Reyes isn't a criminal, he doesn't consider any other country to be his home, he didn't come here on his own accord, he's been separated from his family and his education cut short. And, for what? So we can feel good about sending an undocumented immigrant "home"?
Fortunately, Fredd was released a few days later — but not everyone is that lucky, not everyone's case gets as much attention. Some of these young people end up in prisons where we pay tens of thousands of dollars to house and care for them while they await deportation to a country they may not even remember when, instead, they could be doing something productive in the community. (All too often such "criminals" are sent to for-profit prisons that cost tax payers about three times as much as government-run prisons.)
If this sounds ridiculous, it is ... especially in a time when the president of the United States swore he would work to reform immigration issues just like this.
And, that's why Rep. Luis Gutierrez is in Charlotte today as part of his Campaign for American Children and Families tour. The Democrat from Illinois is pushing President Obama to keep his word — not only on the DREAM Act but on other immigration reform issues as well.
Here's Rep. Gutierrez's schedule, if you'd like to join him or listen to him discuss the these issues:
1:30 p.m.: Rally at the Mecklenburg Jail, 700 E. 4th St.

4:30 p.m.: A meeting at the Charlotte Chamber of Commerce, 330 S.Tryon St.

6:30 p.m.: Speach at St. Paul Baptist Church, 1401 Allen St.