By Matt Brunson
FRIDAY, APRIL 15 — As Herman's Hermits once sang in regard to Henry the Eighth, "Second verse, same as the first."
Although not by design, the schedule for my second day at the 13th Annual RiverRun International Film Festival looked eerily like the first, as my selections again included one feature-length documentary, one feature-length fiction film, one block of shorts, and a filmmaker Q&A session. (To read the Day One Recap, go here.)
The added attraction this time around was an evening VIP Party at the Black Horse Studio, a gorgeous space ideal for entertaining. In addition to the incredible food laid out and the booze bar (featuring moonshine cocktails!), there was a DJ (and dancing) as well as a separate room in which Casablanca was being shown on a large white wall. My fiancée Natalie and I dashed in for a quick bite, left for a screening, and then returned for the final stretch of the night. We spent a good chunk of the event talking to actress Lindsay Pulsipher, who plays Crystal Norris on HBO's hit series True Blood. Having already chatted with her earlier in the day, we were pleased to spend more time with this lovely, down-to-earth woman.
Charlotte writer Natalie Joy Howard and True Blood actress Lindsay Pulsipher
As was the case the previous day, most of the screenings we attended were held at a/perture cinema in downtown Winston-Salem; however, one was held at the impressive movie theater on the UNC School of the Arts campus. You can check it out in the photos at the top of the article and right here:
As for the films themselves …
One of the colorful posters seen in American Grindhouse
American Grindhouse — Along with Rubber (see review below) and Uncle Boonmee Who Can Recall His Past Lives (which I hope to catch Sunday), this was the title I was most interested in seeing. Overall, director Elijah Drenner does a stellar job of tracing the genesis of this most disreputable of genres from its early days (basically, moments after the medium of film itself was created) to the modern era. Interviewing various filmmakers and film historians (among them, directors John Landis and Joe Dante and scholars Eddie Muller and Kim Morgan), Drenner pretty much presents the material in chronological order, thereby showing how outside factions (e.g. the Hays censorship board, the MPAA ratings code, bolder mainstream productions like Psycho and Baby Doll) helped shape the history of these low-budget efforts that dealt in sex, violence and other titillating pursuits. The picture (narrated by Robert Forster) covers everything from blaxploitation flicks to the "Nazi sadism" staples (Ilsa, She-Wolf of the S.S., of course, but also one film in which Nazis square off against Jesus!), but while some of the classics of the grindhouse circuit are highlighted (Blood Feast, The Big Doll House), other biggies are oddly either mentioned only in passing (Reefer Madness) or not at all (The Texas Chain Saw Massacre).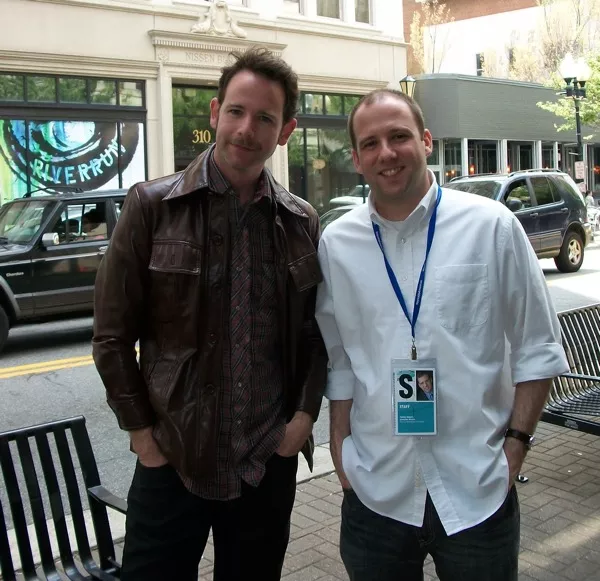 American Grindhouse director Elijah Drenner and RiverRun Festival executive director Andrew Rodgers
More puzzling is that the picture for the most part ends in the mid-1970s, although grindhouse titles were in production long after that. However, the mystery was cleared up at the post-screening Q&A session with Drenner, during which he explained that it's cheaper (often free) to use footage from pictures made before 1976, and far more costly for titles produced after that. Yet while this does make for a slightly incomplete film, it's still highly recommended viewing not only for grindhouse fans but for anyone with an interest in film history.
Rubber — One of the most talked-about movies on the festival circuit and a possible cult-film-in-the-making, this effort from writer-director Quentin Dupieux doesn't quite live up to its fantastic — and fantastically absurd — premise. It certainly gets off to a great start, as actor Stephen Spinella breaks down the wall between the film and the audience with a hilarious monologue about how things occur in movies for "no reason. " From there, we watch an audience armed with binoculars watching the film that is Rubber, which is the story of a killer tire named Robert. This menacing villain has telekinetic powers, which sounds cool until you realize that instead of running people over in perhaps the manner of a Corman project like Death Race 2000, Robert is merely going to blow their heads up from a safe distance. Over and over again. Rubber could have been developed in countless ways, but the path it chooses turns out to be rather redundant, and the audience-within-the-film angle, intriguing at the beginning, is milked to death throughout the course of the picture, with its employment serving as a wink-wink meta-theory on the nature of filmmaking as well as a commentary on the voyeuristic nature of audiences (a premise tackled more effectively in this festival's documentary Nenette, and of course tackled definitively in Hitchcock's Rear Window). Rubber offers believable special effects and a fine score by Dupieux and Gaspard Auge, but it runs out of gas far too early in the journey.
Narrative Shorts #2 — While I was unable to fit in a screening of Narrative Shorts #1 (a block of seven shorts, including the Oscar-nominated You Too (Na Wewe)), I did catch the seven films offered in this collection. Herewith, my top three:
* Little Brother — I loved this student film from director Callum Cooper of London's Royal College of Art. Employing sympathetic characters and a strong visual style, Cooper relates the tale of a deaf boy who has to look after his handicapped younger brother. I wish this one had been longer than seven minutes.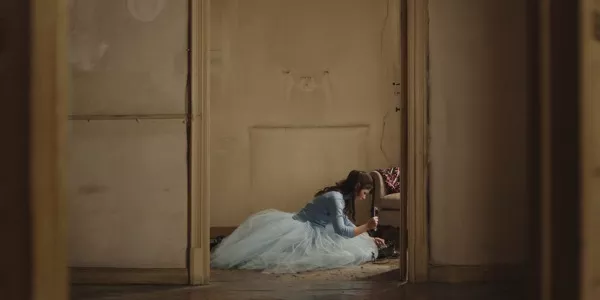 * Are You Leaving? (?Te vas?) — A brutish man discovers that his wife is preparing to leave him for her gentle lover. What sounds like the same-old same-old is given a vibrant new polish by writer-director Cristina Molino, who employs stop-motion photography to turn this into a visually stimulating experience.
* A Fine Young Man — During the Cold War, a clean-cut husband is questioned by two FBI agents to determine whether he's a real Commie-hating, American patriot. The twist becomes easy to deduce late in the game, but by then, we've been thoroughly impressed with writer-director Kevan Funk's ability to spin an interesting yarn.
* Honorable mention: The Award (El premio), with its Being John Malkovich-lite story and a strong central performance by Pilar Castro.