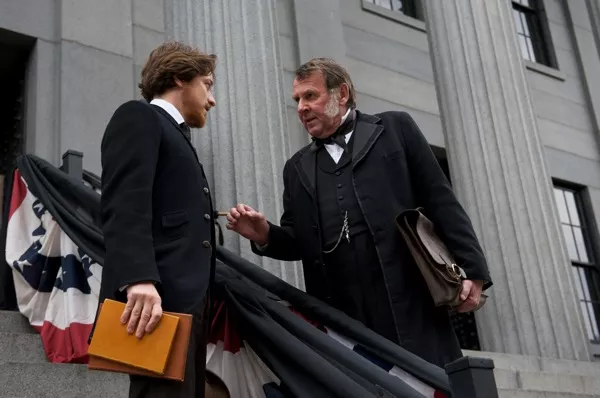 By Matt Brunson
THE CONSPIRATOR
***
DIRECTED BY Robert Redford
STARS James McAvoy, Robin Wright
Boston Corbett, the soldier who fatally shot John Wilkes Booth after the latter assassinated Abraham Lincoln, had years earlier removed his own testicles (with scissors!) so he wouldn't succumb to the feminine wiles of prostitutes. Dr. Samuel Mudd, one of the men convicted as part of the conspiracy to kill the president, is believed by many to merely have been a victim of circumstance, unaware as he tended to Booth's broken leg that this man had just murdered the nation's leader. Clearly, there are many fascinating stories surrounding the death of one of this country's most revered presidents, and The Conspirator relates one of them. But it's a doozy: the arrest and trial of Mary Surratt, the only woman charged with taking part in the plot to kill Lincoln.
The guilt or innocence of Surratt remains a mystery even to this day, although director Robert Redford's solid film leans strongly toward a "not guilty" verdict. Presented primarily as a principled widow and a mother fiercely protective of her son (who was involved with Booth, if arguably not with the murder scheme), Mary Surratt (Robin Wright) has the support of her idealistic lawyer (James McAvoy) but not many others — certainly not prosecuting attorney Joseph Holt, played by Danny Huston, nor Secretary of War Edwin Stanton, portrayed by Kevin Kline as an oily cross between Donald Rumsfeld and Alexander Haig.
Surratt's fate — freedom or the gallows? — is hardly a secret, but since the studio has opted to build this up as a historical cliffhanger, I won't ruin the ending here. But The Conspirator scarcely needs this manufactured suspense, as it does a compelling job of presenting a lesson not found in most school texts.