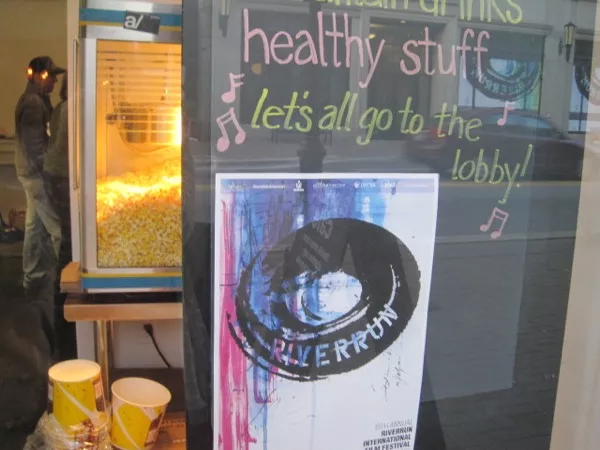 By Matt Brunson
THURSDAY, APRIL 14 – It's not exactly the same as walking into a movie after it's already half over, but there was still something a tad disconcerting about dropping into the 13th Annual RiverRun International Film Festival with six days down and only four to go. Already past were screenings of some of the high-profile titles (including The Whistleblower, starring Rachel Weisz, and Meek's Cutoff, with Michelle Williams), the presentation of the festival's Emerging Master award to Oscar nominee Michael Shannon (Revolutionary Road, the upcoming Superman), and a handful of special events (including a free Best in Show screening attended by dogs and their human pets). But with a festival as prominent as this one, there's certainly no worry about finding things to do for these final four days. In addition to fulfilling my festival obligation to serve as one of the jurors for the Documentary Shorts category, there are other films to see, events to attend, and blogs to post.
To that end, this first day was for the most part all-movies-all-the-time, with my fiancée and I making frequent in-between visits to the Pass Holder Lounge to load up on coffee and snacks. In fact, after three afternoon screenings and one filmmaker Q&A session, we opted to head back to the hotel rather than attend either an evening screening or the Down Home Supper event thrown for festival staffers, judges and other assorted guests.
First, the obligatory, tourist-y pictures. (Photo credit: Natalie Joy Howard)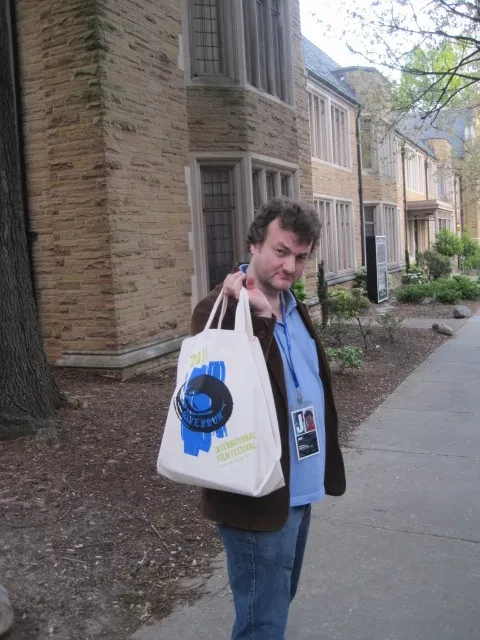 On the scene and ready to work!
Now, the films.
Nenette — If eyes are truly the windows to the soul, then the opening shot of Nenette — a close-up of the title orangutan's orbs — immediately establishes that this is one creature with deep wells of emotion. A French documentary from director Nicolas Philibert (whose 2002 school-set documentary To Be and To Have was a stateside success), this relates the story of a 40-year-old orangutan who has spent practically all her life at the Jardin des Plantes zoo in Paris. Philibert's camera never once captures any humans in his shots (aside from the occasional reflection caught in the glass separating human from beast); instead, the film's entire 70 minutes remain focused on Nenette and her fellow great apes at the zoo, with the soundtrack filled with the inane chatter of zoo patrons and the more thoughtful commentary by the venue's caretakers. Nenette appears to be morose and downtrodden throughout the film, and the mystery remains whether she's that way because of old age, post-surgery trauma or pangs of loneliness coupled with bouts of boredom. Whatever the reason, this is a touching movie that reminds viewers of the fact that the chasm between humans and the rest of the animal kingdom isn't always as wide as readily accepted.
Gabi on the Roof in July — This is a movie that manages the neat trick of being impressive and infuriating at the same time. Lawrence Levine serves as writer, director and co-star of this low-budget seriocomedy about the strained relationship between Sam (Levine), a 30-year-old painter struggling to make it in the art world, and his 20-year-old sister Gabi (Sophia Takai, also the film's producer and editor), who arrives from college to crash at his NYC digs for the summer. Gabi, considering herself a feminist free spirit disgusted with the bourgeois sensibilities of the world around her, prances around naked in front of Sam's roommates, deliberately botches an interview he sets up for her (for a job in an art gallery) and embarks on dubious art projects that neither produce income (to help with the rent) nor earn approval from her "patriarchal" sibling. For his part, Sam is suspected by his overbearing girlfriend (Brooke Bloom) of cheating on her with his ex-lover (Amy Seimetz).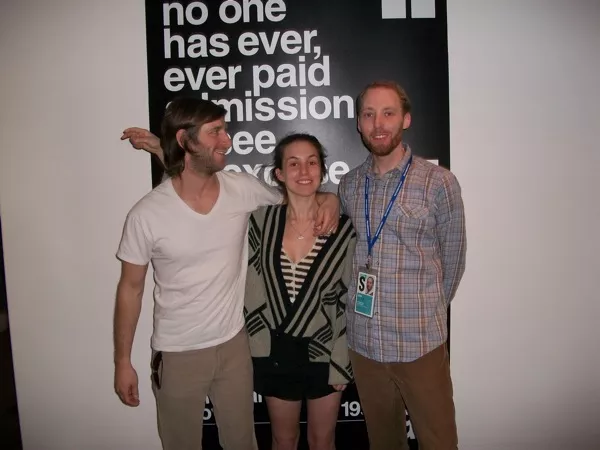 Lawrence Levine, Sophia Takal and RiverRun programmer Christopher Holmes
As Levine and Takal revealed in the post-screening Q&A session (in addition to the fact that they're engaged; congrats!), Levine took a page from the playbooks of both Mike Leigh and John Cassavetes by building the picture from improv sessions with his actors, wherein they established and defined their own characters before Levine listened to all the taped sessions and crafted a screenplay from that material. It's always an intriguing way to make a movie, and Levine and his crew have crafted a film that moves with the natural rhythms of real life, complete with light moments (Levine gets off most of the script's best lines) and weighty melodrama. But if there's a fault with the picture, it's that in creating characters meant to reveal the flaws that affect us all, Levine and co. forgot to include enough of the good qualities to serve as counterbalance. In short, with rare exception, these are thoroughly obnoxious characters, with Gabi arguably turning out to be the most repellent of all. The Q&A revealed that Gabi's behavior was largely triggered by the actions of her and Sam's philandering and neglectful dad, but this aspect doesn't come through enough in the finished product to serve as a mitigating factor in Gabi's frequently odious actions. Still, all the performances are exemplary, and Levine's obvious command of his craft makes his next project — a thriller, he revealed — one worth anticipating.
North Carolina Shorts — As the RiverRun guidebook states, "This year we wanted to highlight some of the local and student films from North Carolina that come through our doors." To fill the bill, the fest folks selected seven titles, five from university filmmakers. My top three:
* Love Recall — This film lasted all of two minutes (1:47, to be exact) yet has stuck with me the longest. Employing a split screen, writer-director Michael Heil (of Elon University) simultaneously looks at the genesis and deterioration of a relationship.
* Twice As Bright — This effort from writer-director Leo Hageman (of UNC-Wilmington) takes its time getting out of the gate but soon builds in power and poignancy as it follows a man whose late wife reaches out to him from the grave in an unusual manner.
(Photo credit: firstinflightentertainment.com)
* I'll Be Seeing You: The Andrews Sisters Tribute Show – Wake Forest University filmmakers Sana Haq and Brenton Richardson pay their own tribute to Erinn Diaz, Serah Haley and Heidi Shafer, the three young women who tour the nation performing Andrews Sisters standards to the delight of World War II veterans and other elderly fans of the beloved musical act of the 1940s.