Check out these events going down in Charlotte and the surrounding area this weekend— as selected by the folks at Creative Loafing.
Friday, April 8
Sensoria
CPCC
Spring's bloom is getting fuller as Cental Piedmont Community College's Sensoria kicks off. A celebration of the arts, the week-long fest features a plethora of theater (Almost, Maine, Shakespeare to Go), dance (NCDT's Bearden and Ballet), visual arts (Families of Abraham, The Art of Music exhibits) and film (Redneck Roots), as well as culinary arts, literature and history/culture events.
• Theater Matthews Performing Arts Center is taking to the grave with performances of the musical Zombie Prom. Based off the 1950s comic book and musical-made-film, the story line follows a high school couple banned from seeing one another. Like most love stories of these types, something dramatic is bound to happen. In this case a highstrung heart-achin' fella rides his motorcycle into a nuclear plant. Trouble is, instead of resting in peace he emerges from his tomb undead. And though he's a little less attractive than before, he's more determined then ever to go to the prom with his girl. more...
• Exhibit Most folks around town know Jasiatic as a creative artist/photographer (she's done plenty of work for CL), but what you might not know is that she's also a single mother. In her Nothing Personal exhibit, she'll be featuring photos of her children — captured in both sweet and wild moments. It's family with a funky twist; the showcase is described as "a documentation of perpetual change, growth, life, and being." more...
Saturday, April 9
25 Most Stylish People in Charlotte
Mercedes of South Charlotte
For a night of fashion, red carpet treatment, charity, good company and stylish looks on and off the runway, you'll want to keep April 9 open on your calendar. Charlotte STYLE Magazine's 3rd Annual 25 Most Stylish People in Charlotte event honors folks who have proven they've got style. Attendees will enjoy a "Go Red Celebrity Fashion Show," featuring Kotani Rae, 5-Minutes Apart, MiikelleDeFo, Fresh Boutique and The Pink Hanger and more. Proceeds benefit American Heart Association's Go Red Campaign.
• Fashion A quick venture into the clothing shop Boris and Natasha in Plaza Midwood can send just about anyone on either a shopping spree or (if you lack the funds) a dreamy window-shopping ordeal. So it's no wonder that La Vie en Glamour — a fashion show featuring looks from Boris and Natasha — is worthy of your attendance. Hosted by local extraordinaire Scott Weaver, the event will flaunt an assortment of cutting edge designer pieces for the season. Cabaret performances and a vocal burlesque performance, will keep you further entertained. And as if all that wasn't enough, mixed beats by DJs Nat Eichler and Buckmaster will be provided for your dance floor merriment. more...
• Nightlife Passports aren't required and you don't have to trek across the globe for the upcoming Around the World benefit at Andrew Blair's. But here's to hoping you like alcohol because at this shindig you'll get to sip on margaritas from Mexico, rum from Cuba, vodka from Finland, beer from Belgium and whiskey from America. Admission includes one 8 oz. beverage per country, food tastings, drink specials (in case you still want more) and music by DJ Rockin' Rich. Proceeds raised go to the American Red Cross. more...
Sunday, April 10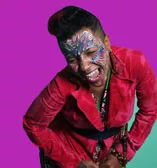 Mi Casa
Dharma Lounge
Nightlife in Charlotte gets a new look, feel and — most importantly — sound with the launch of the brand-new monthly event Mi Casa. Created by the local photographer/scenester Jasiatic, Mi Casa actually started months ago as a weekly house party (held, literally, in her house), but it quickly evolved into an epic soiree frequented by a bizarre congregation of kindred spirits. Tonight, however, thanks to Jasiatic and Dharma Lounge (and yours truly), this beloved multimedia party — featuring art, photography, film and the sounds of Afrobeat, house, soul, funk and more — makes the leap to a big, public space.
• Food Chow down on authentic Middle Eastern cuisine, gaze at professional belly dancers or sharpen your knowledge at informative cultural displays during The Middle East Council of The Carolinas' Middle East Festival. more...
• Music Charlotte indie trio, The Lesser Pauls has an exciting live show of their own. They really fit a lot into a small space. Songs that are fast, slow, hypnotic, intense, it's really interesting. They've rocked Snug Harbor before, watch them do it again tonight. Laura Stevenson & The Cans and Blossoms are also on the bill. more...