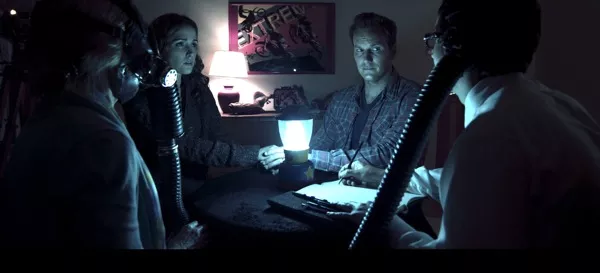 By Matt Brunson
INSIDIOUS
**1/2
DIRECTED BY James Wan
STARS Patrick Wilson, Rose Byrne
It's not as if the world really needed yet another exorcist tale when The Last Exorcism hit theaters late last summer, but that masterfully constructed faux-documentary unexpectedly proved to be a welcome addition to the horror canon. Likewise, while it's probably time to call for a moratorium on both haunted-house thrillers and creepy-child sagas, Insidious milks a bit of innovativeness from both these sub-genres before self-destructing.
Patrick Wilson and Rose Byrne make for a natural and believable coupling as Josh and Renai Lambert, who move into an old mansion with their three kids in tow. An accident in the attic leaves son Dalton (Ty Simpkins) in a comatose state, and soon afterward, all sorts of supernatural shenanigans begin occurring. No problem; the Lamberts simply pack up and move out. But when strange things start happening at their new abode, they suspect that it wasn't the former house itself that was haunted ...
Director James Wan and scripter Leigh Whannell (the duo behind Saw) don't allow a PG-13 rating to temper their work: Rather than relying on gore, they manage to conjure some genuine tension by keeping both the characters and the audience off-kilter for much of the running time. But the film slips drastically with the introduction of two paranormal investigators whose painfully unfunny comic relief (we're not talking Bill Murray and Dan Aykroyd) disrupts the unsettling mood. Late arrival Lin Shaye (a grotesque foil in Farrelly movies) is excellent as the two clods' all-knowing boss, but her elaborate — and exceedingly daft — explanations regarding the otherworldly occurrences further deflate the project, and the frantic finale is simply overkill. And the less said about the awful last-minute twist, the better.