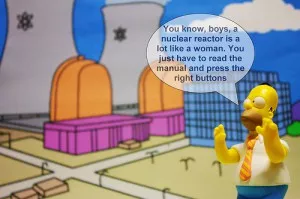 Thanks to Degilbo for the image.
It's no secret that I support legalizing marijuana, but even the foggiest pot heads know better than to try and operate major machinery when they're blazed ... much less nuclear-frikin' power plants. Geeze.
Though, marijuana use is not even close to the most scandalous revaluation in this ABC News article, excerpted below:
Among the litany of violations at U.S. nuclear power plants are missing or mishandled nuclear material, inadequate emergency plans, faulty backup power generators, corroded cooling pipes and even marijuana use inside a nuclear plant, according to an ABC News review of four years of Nuclear Regulatory Commission safety records.

And perhaps most troubling of all, critics say, the commission has failed to correct the violations in a timely fashion.

"The Nuclear Regulatory Commission has very good safety regulations but they have very bad enforcement of those regulations," said David Lochbaum, a nuclear scientist with the nonprofit Union of Concerned Scientists.

There are 104 U.S. nuclear power plants.

Lochbaum and the Union of Concerned Scientists found 14 "near misses" at nuclear plants in 2010. And there were 56 serious violations at nuclear power plants from 2007 to 2011, according the ABC News review of NRC records.

At the Dresden Nuclear Power Plant in Illinois, for instance, which is located within 50 miles of the 7 million people who live in and around Chicago, nuclear material went missing in 2007. The Nuclear Regulatory Commission fined the operator -- Exelon Corp. -- after discovering the facility had failed to "keep complete records showing the inventory [and] disposal of all special nuclear material in its possession."

As a result, two fuel pellets and equipment with nuclear material could not be accounted for.
Read the rest of this article here.
Further reading: