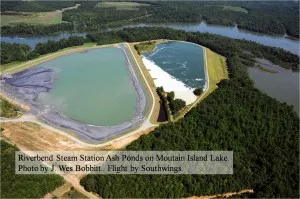 These are the coal ash ponds that drain into Charlotte's main drinking water reservoir: Mountain Island Lake.
While we await the U.S. Environmental Protection Agency's thrashing in Washington, and their coal ash ruling — which was originally promised to be delivered in December 2009 — check out this snip from The Seattle Post-Intelligencer:
The federal government promoted some uses of coal ash, including wallboard or filler in road embankments, without properly testing the environmental risks, according to a report from the Environmental Protection Agency's inspector general.

The inspector general's report released Wednesday said sites where coal ash was used for earthworks, like road embankments or berms, "may represent a large universe of inappropriate disposal applications with unknown potential for adverse environmental and human health impacts."

The EPA is considering imposing stricter regulations for coal ash, or fly ash, a byproduct of burning coal at power plants. The rule changes were prompted by a 2008 environmental disaster at a Tennessee power plant that released more than 5 million cubic yards of ash into a river and nearby lands.

The agency has said coal ash contains arsenic, selenium, lead and mercury in low concentrations, and those contaminants can pose health risks if they leach into groundwater.
Read the entire article, by Dylan Lovan, here.
Further reading: Is coal ash poisoning Charlotte-area drinking water?