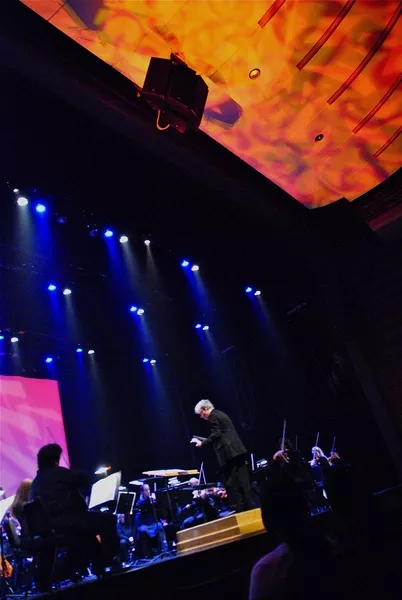 Photo credit: Perry Tannenbaum
It isn't easy to label Charlotte Symphony's KnightSounds series – because a themed concert is only the beginning of all it is. After a single season, we can't offer a simple phrase that sums it up, but we can give you an accurate description that encompasses all the variety we've seen so far: KnightSounds is a Levine Cultural Center evening event built around a themed Charlotte Symphony concert and enriched – before, during, and after the concert at Knight Theater – by contributions from educational and cultural organizations within the Levine Campus and around town. Attractively priced, tickets also include heavy pre-concert hors d'oeuvres and a free drink.
Discovery Place and UNC Charlotte were the key players back in October when KnightSounds premiered with "Planets!" Before Symphony performed the famed Holst suite, Discovery Place had a mini-planetarium installed in the Bechtler Museum lobby, and UNCC eggheads anchored a panel who discussed the heavenly bodies from mythological, astrological, musical, and archeological perspectives. NASA animations projected on a huge AV screen enhanced our voyage through the solar system during Symphony's performance. With Jupiter conspicuously in the ascendant, a telescope was set up outdoors so that ticketholders could view the orb after the concert.
The backend of the "Tangos and Tapas" concert, celebrating Latin music, was even more elaborate in February as the newly opened Mint Museum hosted a caliente after-concert tango party. Last week, the Bechtler got emphatically into the act, opening their doors to their major Nikki de Saint Phalle exhibition before and after the "Light My Fire" concert and dispatching Bechtler prez John Boyer to the concert for an illuminating talk about the life and work of the artist.
If labeling is problematical, and if Symphony and its cultural partners aren't doing an optimum job publicizing all the educational components of KnightSounds, it certainly hasn't hurt ticket sales, which are a resounding success. Obviously, they had the town at free drinks. Building on its "Light My Fire" momentum, Symphony has announced that KnightSounds will grow to four events for its 2011-12 season.
October 21 – Bearden 100-Celebrating the Man through Music: Images of Romare Bearden's paintings and collages will augment music by Ellington, Copland, & Co.
February 24-25 – Carmina Burana! Two choirs punch up Carl Orff's signature song cycle for two nights of clamorous breast-beating, drinking songs, and bawdiness.
March 23 – To Tchaikovsky with Love: Symphony will more than hold up its end in a citywide Tchaikovsky festival, with a concert highlighting the man and his music.
May 4 – Joie de vivre-A Night in Paris: Digital video animation by artist Matthew Weinstein will fill the screen as Symphony performs Ravel's sensuous, mesmerizing Bolero.