Check out these events going down in Charlotte and the surrounding area this weekend— as selected by the folks at Creative Loafing.
Friday, March 25
McGlohon Theatre
Comedian Doug Benson sits on a throne (well, for his Comedy Central series The Benson Interruption, that is) puffing out heckles at comics just as fast as you can say Super High Me. After gaining some attention as a contestant on the fifth season of Last Comic Standing, Benson starred in the documentary (playing on Morgan Spurlock's Super Size Me) about the effects of smoking weed for 30 days. Luckily, the ordeal (habit-forming or not) didn't spawn him into producing half-baked jokes. Usually hilarious and sometimes offensive — c'mon Canadians, he said he's sorry — Benson is a comedian in high demand.
• Film Expanded to eight days and four viewing venues, the third annual Gay Charlotte Film Festival is even more inclusive than ever before, with enough time and space to allow for all manner of LGBT titles. Among the movies being screened are A Marine Story, Eyes Wide Open, Gen Silent, and You Should Meet My Son. more...
• Art Through images and words, the local non-profit organization Silent Images hopes to put a face to those suffering from poverty, oppression and persecution. Its latest book, Voice of Beauty, celebrates the strengths of African women struggling for survival on a daily basis. An exhibit bearing the same content and title as the book is currently on display at Evergreen Studio; it features photography by David Johnson and Elizabeth Marx. more...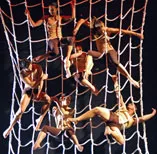 Saturday, March 26
Patricia McBride & Jean-Pierre Bonnefoux Center for Dance
Don't let the title scare you away. Gastonia dance troupe Caroline Calouche & Co.'s premiere of pi: personal integrity is more focused on humanity rather than mathematical constants. The troupe combines dance and aerial acrobatics with the use of ropes, bungee chords and other materials as aids. But the life of pi is more than that. Slam poets and vocalists add an extra spin.
• Sports It's time for another roller derby bout for the Charlotte Speed Demons. This time they'll go up against the Greenville Derby Dames at First Ward Recreation Center. more...
• Nightlife Ouzo Productions' Global Fever: Persian New Year Edition revolves around the Nowruz, the first day of the New Year in the Iranian calendar. Music will be provided by DJ DIM and DJ Meisam DBK from Washington DC. more...
Sunday, March 27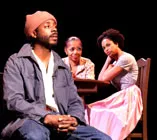 The Glass Menagerie
Theatre Charlotte
Just one teeny tiny decision or dinner gone wrong can affect a whole family. That's what we learn from playwright Tennessee Williams' The Glass Menagerie anyway. In the drama a fella named Tom brings a friend (and presumably suitable partner for his sister) over to his house. His obsessive mother strives for perfection by doing everything in her power to please the guest — all with unrealistic hopes that he'll fall for her handicapped daughter. It's no real spoiler to say that nothing goes according to plan.
• Benefit Angels may be hard to find (and Hank Williams Jr. isn't the only one who thinks so), but human nature's willingness to do good deeds isn't nearly as challenging. During the upcoming Spread Your Wings event — a music benefit to raise money for Wind River Cancer Wellness Retreats & Programs — it's made easy. Just by purchasing a ticket to the show, guests give to a good cause all the while satisfying their own desires for quality entertainment. more...
• Music Eddie Spaghetti is best known as the guiding light behind long-running punkabilly stage-wreckers The Supersuckers. Though his narratives — revolving almost exclusively around sex, drugs, drinking and Satan — are meant to be taken half-seriously, the music is delivered with heartfelt (if inebriated) passion. So strap on your PBRs and revel in the debauchery. With Cattle Truck and Wiggle Wagons at Tremont Music Hall. more...