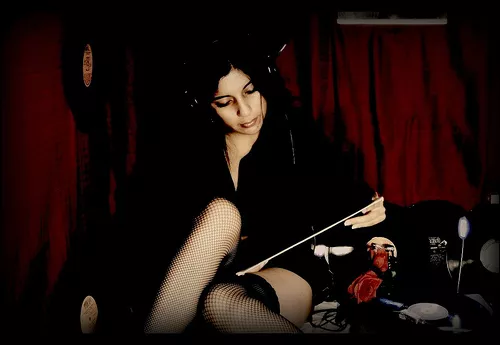 Thanks to Juan Soriano for the photo.
Bless these kids hearts. They're reusing, re-loving, and re-inspiring a love for music. Real music, not the generic pop crap and auto-tuned nightmares that have ruined radio.
"Listening to old music remastered to a newer format is almost comical," Sarah said. "They weren't meant to be digitalized. Listening to Jimi Hendrix on my iPod doesn't capture his endlessly deep guitar solos quite like a 33 LP of 'Blues' does."

This girl's in love with vinyl, and she's not the only member of Generation Digital with an ear for analog.

"My dad always had these old records in the garage and I never got to use them until just recently, when my uncle let me have his old record player," said 14-year-old Nick Spates, a Los Angeles eighth grader who plays guitar and piano.

What'd he find in his dad's two milk crates?

A lot of George Clinton - "He's a genius. I swear," declared Nick. And Funkadelic. Of the band's Eddie Hazel: "'Maggot Brain' is like my favorite song ever. The original is a 10-minute guitar solo." There was also "Spiral" by The Crusaders. "It has a lot of horns. I love horns." And "Carmel" by Joe Sample, Hendrix on "Voodoo Child" and a trove of Stanley Clarke.

"My friends think it's cool," Nick said. "Before I had the vinyls I used to Google older musicians and see what songs they made, and I'd look for them on YouTube. We're all musicians and old music is like our favorite stuff in the world."
Read the rest of this Associated Press article, by Leanne Italie, here.