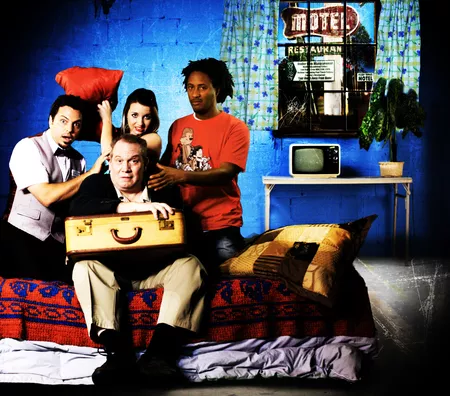 Over the past 15 years, Martin McDonagh has been the most lauded new playwright in the English language. It would certainly be a mistake to label the Irishman's latest Broadway import, A Behanding in Spokane, an outright flop. But in his first play to be set in the US, McDonagh often seems disoriented and at a loss. What's most keenly missing here is the sense that we're pointedly in America. From afar, McDonagh doesn't seem to know any more about us than we know about Spokane.
The four Americans we meet aren't swilling Guinness or speaking in brogues, but as a group, they're very much like the Irish who have horrified us, exasperated us, and convulsed us with laughter in McDonagh's previous triumphs in black humor. They're not merely dense, violent, and eccentric like characters in The Pillowman, The Lieutenant of Inishmore, The Cripple of Inishmaan, and The Beauty Queen of Leenane. Kinship between Americans and the Irish is legitimate enough in these areas. But the humor McDonagh often mines from his American is often based on a pathological inability to see the point or to stick to it. These are earmarks of rubes who don't feel the tug of TV, movies, videogames, big money opportunities, and the nearest shopping mall.
None of these folk seem afflicted by an American restlessness or vulgarity – and nobody insists on that article unofficially written into the Bill of Rights, instant gratification. The back story, hinted at in the title, is obsessive enough. Carmichael watched helplessly, 47 years earlier, when a band of vicious pranksters amputated his left hand with the aid of a passing train. Heaping humiliation on the insult, the hoodlums waived goodbye to Carmichael with his own severed hand.
Although he doesn't harbor the delusion that he can re-attach the lost limb, Carmichael is still searching for it all these years later when we first meet him in a seedy hotel room, in a smaller, more godforsaken town than Spokane. He's scheduled to meet with Marilyn and Toby, who are attempting – with youthful optimism and colossal clumsiness – to scam Carmichael with a bogus hand. A suitcase filled with specimens collected over the years indicates that Carmichael has a considerable hoard of optimism himself.
Now it's taken Carolina Actors Studio Theatre a little longer to tackle McDonagh than for McDonagh to get around to sending up America. Charlotte Rep and Actor's Theatre staged the local premieres of the previous four plays that have run here before. So taking the plunge with a script that's idiosyncratic for even this playwright is to be applauded.
The CAST production, directed with a zany energy by Paige Johnston Thomas, nicely obscures the basic shortcomings of Spokane. But there's a simple reason why those weaknesses remain partially exposed instead of totally obliterated. Johnston forfeits any chance of unleashing McDonagh's full manic power by casting Russell Rowe as Carmichael, the behanded protagonist that Christopher Walken brought to Broadway. Rowe is credibly driven, but in terms of the menace, volatility, and shocking spontaneity that are possible in bringing Carmichael vividly to life, Rowe falls somewhere in the overall spectrum of frightfulness between Tevye the Dairyman and the produce manager in a Bi-Lo commercial.
If there's no electricity at that core, the tremblings of Elise DuQuette and Derrick J. Hines as Marilyn and Toby have no chance of transcending the comical fidgetings of cartoon alarm. DuQuette and Hines simulate the comic interactions of a work-in-progress couple well enough, but there's no pathway here for them to reach the visceral frontiers of the script when the two-bit crooks' lives are in danger.
Not that Charlotte is teeming with actors who could bring the fear factor to Carmichael without rupturing the comedy, but one of the two I can readily think of (the other is Mark Scarboro) is standing right there onstage, filling out the cast. We've seen more than adequate range from him at CAST before. Instead of going into his predatory Killer Joe mode as Carmichael, Robert Lee Simmons has been steered toward his dopey Our Lady of 125th Street mode in portraying Mervyn, the snoopy, tactless, irrepressible hotel clerk. It's a marvelous performance, helping to sustain the illusion that comedy oxygen is enough to sustain this polished effort. It's just not the marvelous performance that A Behanding in Spokane needs most.
Simmons is involved in set design and lobby design, and his dad, Michael R. Simmons, is involved in the lighting and the special effects, including all those gross-out hands – including mine! – that come spilling out of Carmichael's suitcase. Count on it, those are up to CAST's usual high standard, which translates into another fun night at Clement Avenue.