Check out these events going down in Charlotte and the surrounding area this weekend— as selected by the folks at Creative Loafing.
Friday, March 18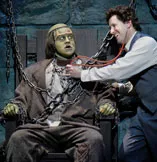 Young Frankenstein
Belk Theater
Mel Brooks' Broadway musical Young Frankenstein is no experiment. The acclaimed production draws from the 1974 film based on Mary Shelley's classic book and is set in a favorite fiend spot, Transylvania. Its monstrous plot follows Frederick Frankenstein (grandchild of the demented scientist Victor Von Frankenstein) as he struggles with what to do with the laboratory he undesirably inherited. To continue the madness or put an end to it all? It's a big decision, but funny scores like "The Transylvania Mania," "He Vas My Boyfriend" and "Puttin' On the Ritz" liven things up for the better.
• Film Are The Light Factory and Hodges Taylor Art Consultancy trippin'? No, but they are teaming up to screen the hallucinatory flick, Enter the Void. The French film by Gaspar Noé follows a chaotic combustion of psychedelic drug experiences, violence and dreamy unconsciousness. It picked up an award for best film at the 2010 Neuchâtel Film Festival. more...
• Art It's hard not to notice French-American artist Niki de Saint Phalle's massive "Firebird" just outside the Bechtler Museum of Modern Art. And today, a new exhibit (titled, Creation of a New Mythology) by its creator comes swooping in. Fifty-five works by Phalle will be displayed inside the museum, while five large-scale pieces find a home outside along The Green. more...
Saturday, March 19
St. Patrick's Day Parade and Charlotte Goes Green Festival
Uptown
Irish or not, you've got to hand it to the Charlotte St. Patrick's Day Parade for giving us all cause to celebrate. In its 15th year, the parade features finely decorated floats, pipe/marching bands, Irish dancers and more (this year the Budweiser Clydesdale horse team will give a special stride through Uptown's streets). After the parade, stick around for the Charlotte Goes Green Festival offering up live Irish music, Irish dancers, Irish/Celtic vendors, activities for children, food and beverages.
• Theater Happy endings are often hard to come by and simple wishes aren't always granted. But luckily we have movies to brainwash us into thinking otherwise. William Goldman's The Princess Bride is a shining example. Released as a film in 1987, it gained a reputation for its humorous innuendos and the cheesy drama that escalates from a tale of two lovers — Westley and Buttercup — who discover their romance is in grave danger. Local theater group, Citizens of the Universe will perform a stage adaptation of the cult classic at The Breakfast Club this evening. more...
• Film Over the past 50 years, lion populations have free-fallen from 450,000 to 20,000. The documentary The Last Lions, currently at the Manor Theatre, examines this devastating development. Charlotteans can do their part for our animal friends by watching the flick and bringing a donation for the Pet Food Bank to the theater. more...
Sunday, March 20
Al Jarreau
Knight Theater
Singer Al Jarreau is one of only a handful of jazz artists who has managed to successfully reach a mass audience while still staying true to his musical roots. Serious jazz heads know him for tunes like his groundbreaking rendition of "Take Five" — while more mainstream music fans know him as the dude who sang the theme song for the old Moonlighting TV show. However you know Jarreau, be sure to check him out when he stops through Charlotte tonight; he promises to put on a genre-bending show full of hits, both big and small (yes, even "Moonlighting").
• Comedy Stand-up comedian Brian Regan — making a stop to Ovens Auditorium tonight — has a good memory. In past acts, he's referenced back to his childhood, picking fun at the many activities he was forced to participate in. Through his everyday observations, he also reminds folks of just how funny the random things in life can be. more...
• Theater Collaborative Arts returns with a close look at Shakespeare's heroines as seen through Tina Packer's Women of Will. Packer (founder of Shakespeare & Company) will perform alongside Nigel Gore in this national production directed by Eric Tucker. From the tragic Juliet (of Romeo & Juliet) to the male-disguised Rosalind (of As You Like It), you'll get a variety of the many different female characters who helped to make Shakespeare's works classics. more...