On our first night in New York, we planned to drive into the city from Bloomfield, New Jersey, where we were staying with my newlywed daughter Ilana. We'd find free parking in Long Island City, over in Queens. From there, we catch the 7 train. It's just one stop from Jackson Avenue to Manhattan, so we figured that we'd arrive in plenty of time to order dinner and make the Grace Kelly Quintet's 7:30 set at The Jazz Standard on E. 27th Street.
Well, the Lincoln Tunnel traffic had a will of its own. By the time Sue and I reached Manhattan, our plan was in shambles. But seeing that the snow had been reasonably cleared from the streets, I decided to gamble and try finding a parking spot near the jazz club.
Plan B worked beyond my hopes. I found a spot on E. 27th right in front of the club, where free parking began at 7pm. We saw available parking the following night when we returned for the Wayne Escoffery Quintet after a Wednesday matinee on Broadway and a shopping stopover at Macy's on 34th. Our first night experience was enough to convince us to follow Ilana's advice and take the bus to our Broadway bookings. The 33 bus we took from Bloomfield dropped us off at the Port Authority Bus Terminal on 42nd Street and 8th Avenue, within walking distance – or a convenient subway ride – of all our Broadway, Met Opera, shopping, and jazz destinations.
When Sunday rolled around, with its siren call of all-day free parking, we boldly drove into the city again, this time with the hubris to expect a parking spot near Columbus Circle, where we had a 7:30 rendezvous on the fifth floor of the Time Warner Building with Randy Weston's African Rhythm at Dizzy's. Sure enough, we quickly found a spot within three blocks of the club. We pressed our luck a little on the following Sunday, presuming we'd find parking in the same neighborhood for the 3 p.m. matinee of Freud's Last Session.
We did, after cruising around the side streets for 40-45 minutes. We still had enough time to duck into the new Lincoln Center Cafeteria on Broadway, between 62nd and 63rd. The sandwiches were quite good, actually.
Our usual standby, when we're near Lincoln Center and less pressed for time, is Fiorello's, right across from the Met. This year, we discovered two new places we'd recommend. For brunch before our Tosca matinee, we very much enjoyed the Bar Boulud, next door to Fiorello's at 1900 Broadway, though reservations and funding are strongly suggested. Later that day before the Charles Lloyd Jazz at Lincoln Center concert, we stumbled on a restaurant at 2 Columbus Circle, Robert at MAD. We didn't have reservations, but we arrived early enough to snag a lounge table. Since MAD is the Museum of Arts & Design, the décor at Robert is nearly as breathtaking as the 9th Floor view, and everything we tasted was superb – at prices that were surprisingly easy to swallow.
But enough about food and transportation. Here's what I thought of the music.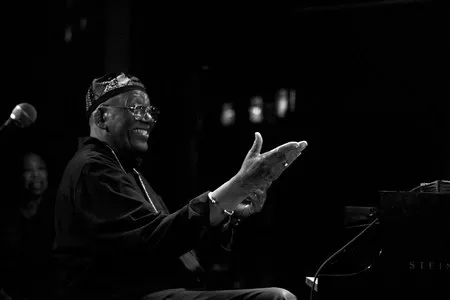 Weston in Dizzy's Club Coca-Cola. Photo credit: Frank Stewart/Jazz at Lincoln Center
Randy Weston @ Dizzy's Club Coca-Cola (***3/4) – I've turned myself nearly completely around on the great 7:30-vs.-9:30 question at Dizzy's. In a quest for more quality time with Ilana, a working psychologist six days a week, we switched from our usual 9:30pm show to the earlier 7:30 set, sacrificing some late-night ambiance and perhaps a spot of music to get back to Jersey appreciably before midnight. Well, we rather enjoyed walking right into the club instead of standing out in the hallway, waiting for the 7:30 customers to settle their tabs and file out. Arriving early allowed us to settle in at our table and deal with our menus and waitress before the music began – rather than while musicians were already on the bandstand.
That worked perfectly with the set we heard, which included three titles stretched over an hour. None of the pieces performed by Weston and his African Rhythm were from their acclaimed Storyteller album of 2010, recorded at Dizzy's, but the pieces were familiar enough to Weston fans, beginning with Duke Ellington's "Caravan." The tune gradually emerged as Weston played an extended solo at the keyboard. Then saxophonist T.K. Blue and all the members of Weston's band – plus guest artist Billy Harper – formed a stately caravan of their own, Robert Trowers soloing on trombone, Harper on tenor sax, Weston on piano, Neil Claude on percussion, and Alex Blake on bass before Blue and Weston hooked up on a majestic outro, maintaining the African pulse to the end.
"Blue Moses," from the 1972 album by that title, is among Weston's most recognizable compositions, but it is more exuberantly African than his most famous, "Hi-Fly" and "Little Niles." If anything can be considered the highlight of a set that included an epic Ellington and a "shortened" version of Weston's "African Village Bedford-Stuyvesant," I can hesitantly say "Blue Moses" was it. Blue switched to soprano, Claude pounded a solo on congas, and Weston – who turns 85 next month – continued to play with amazingly exuberant muscularity. But Blake upstaged them all, overlaying his bass solo with extraordinary vocalese that heightened the African flavor of the entire evening.
Fine food, awesome view, and Randy Weston in top form. It doesn't get much better than that.
Simon Boccanegra (***1/2) – Last season, Placido Domingo plopped into the title role of this middle-Verdi mishmash of sentimentality and melodrama, revivifying a Met production that had been introduced in 1995. Now with interest in the opera still boosted by the legendary tenor's attempt at the demanding baritone role at the age of 69, the Met has capitalized on the Boccanegra mojo by casting its most charismatic baritone, Dmitri Hvorostovsky, as the lead.
Having seen the Domingo version last season via a Met Live in HD broadcast, I can say that comparisons are sometimes eerie from the moment that the silver-haired Hvorostovsky appears in the same brown wig that made Placido look so ridiculous in the Prologue last year. Ha! Dmitri looked almost as silly. The whole evening had similarly unsettling moments. Since the tenor voice sounds younger, the older Domingo sounded most appropriate at the beginning of opera when Boccanegra, the reformed pirate, is young. Conversely, when Boccanegra's long-lost daughter has grown up and the Doge's grip on the Venetian throne is being fatally subverted by the same plotter who put him there, Domingo looked more the part while Hvorostovsky was more capable of plumbing the darker depths of the music.
Even judgment is clouded when admiration for Domingo's daring enters the equation. But if the Spaniard's portrait of Boccanegra was more pitiable and Verdian as his death by poisoning is drawn out for more than a full act, then I much preferred the grittier tragic nobility that Hvorostovsky brought to the Doge's demise, freshening the opera for me. Of course, the Francesco Piave-Arrigo Boïto libretto, though more than sufficiently convoluted, skimps on much needed connective tissue – including the buccaneering Boccanegra – so even a near-perfect portrait is impossible.
As Maria/Amelia, the spirited daughter that Simon is separated from for 25 years, soprano Barbara Frittoli didn't match the regality of Adrianne Pieczonka's bearing or the piercing purity of her voice. On balance, however, I enjoyed the rest of the 2011 cast better than their 2010 counterparts. Ramón Vargas, as the spitfire Gabriele Adorno who adores Amelia, was as idealistic and impulse-driven as I've ever seen him, more than the equal of Marcello Giordani in HD; and Nicola Alaimo grew more repulsive as the scheming, lecherous Paolo as the evening progressed, an improvement over Patrick Carfizzi. Though it's distressing to imply that venerable bass baritone James Morris can ever do wrong, I found that Ferruccio Furlanetto as Fiesco, the disapproving father of Boccanegra's dead wife – and an implacable but nobly honest foe of his son-in-law – more fiercely embodied the steely righteousness of a man bearing an Italian-sized grudge.
The same James Levine was in the pit conducting the Met Orchestra, but this time I was also in the house instead of Stonecrest 22. So the sound was dramatically clearer, more textured, and dynamic.
Charles Lloyd New Quartet (***1/2) – As an opera venue, I found the Frederick P. Rose Hall rather deplorable when I saw John Adams' The Flowering Tree there in 2009. Sitting in the topmost box seats, we had to strain to see the damn tree in the upstage left corner of the set. But as the home of Jazz at Lincoln Center, with musicians bunched at the center of the stage, the Rose is a sonic marvel. There are actually plentiful box seats at orchestra level, and sitting in these, as we did for the Charles Lloyd New Quartet, was an ideal blend of a nightclub and concert experience – minus the cocktail table and noshes.
Lloyd has had a long and colorful career, embracing rock and World Music concepts into various jazz combos since the 60s, when he made a huge splash at the Monterey Jazz Festival in 1966 and was among the first American jazz artists to tour the Soviet Union the following year. The full breadth of Lloyd's musical interests was manifest in a 10-tune set that ranged from the traditional Gospel of "Go Down, Moses" and "Lift Every Voice" to the free-jazz cacophony of Lloyd's own "Passin' Thru" – with the blues "La Llorona," the Tin Pan Alley of "I Fall in Love Too Easily," and the New Age mysticism of "Tagi" somewhere in between.
The quartet is fabulous, as anyone knows who has listened to Lloyd's most recent ECM albums, featuring the prodigious Jason Moran at the piano. At the age of nearly 73, Lloyd seemed to be content to cede Moran much of the heavy lifting, and the 2010 MacArthur Genius Award recipient did not disappoint, birthing one amazing improv after another, particularly on "Passin' Thru," "La Llorona," and Lloyd's frantic "Prometheus." Lloyd also welcomed Moran's wife to the stage, vocalist Alicia Hall Moran, who fired up the two Gospel songs. Eric Harland was also a powerhouse behind the percussion, most conspicuously in his intro to "Caroline, No," and Reuben Rogers' bass resonated beautifully at the Rose throughout, though I found him most distinctive when he picked up his bow for the opening "I Kept My Life/Being And Becoming" and the closing "Tagi."
In a pair of gems dedicated to Lloyd, poet Charles Simic once transcribed a comment he had overheard: "Without this music, Life would be a mistake." What a wonderful tribute. What a wonderful truth.
Rigoletto (***1/4) – Setting four fundamentally warped human beings onstage at the core of a bloody revenge tragedy, you can achieve an opera as deep-down distasteful as I've always found Rigoletto to be. But this year's Met production helped raise this Verdi perennial a few notches in my estimation. Perhaps it was stage director Gregory Keller who altered the alchemy. Piotr Beczala was more the mindless libertine as the Duke of Mantua and less the heartless lech, and his courtiers – the mass of chorus who are so spiteful toward Rigoletto that they kidnap his precious daughter Gilda – came across as nobler, meaner, and less fun-loving. Somehow, baritone Giovanni Meoni fit perfectly into these altered circumstances as Rigoletto, less arrogant and commanding as the court jester loosing his nasty tongue on the nobles, less bloodthirsty in plotting vengeance upon his master, the Duke, and more tormented by his daughter's lost honor after her deflowering.
Gilda's self-sacrifice on behalf of the Duke is always the hardest thing for me to take in Piave's finely crafted libretto, but even that was eased in Nino Machaidze's portrayal of the overprotected child. Here it was possible to believe that Gilda's devotion to the Duke was the outgrowth of her preternatural chastity and naïveté before they met. In that spirit, Machaidze's "Caro nome" was perhaps the slowest, softest, and most delicate I have ever heard as Gilda reacts to her first meeting with the Duke, passing himself off as a lowly student.
While I liked the carefree libertine aspect of his Duke, Beczala wasn't exceptionally thrilling in his signature "La Donna é Mobile" aria, and Stefan Kocán, though certainly sneering and malevolent enough as Sparafucile, just wasn't chilling when asked to deliver the depths of his basso wickedness. It was Machaidze's self-martyrdom that shone brightest as the curtain came down. (Returns on April 26)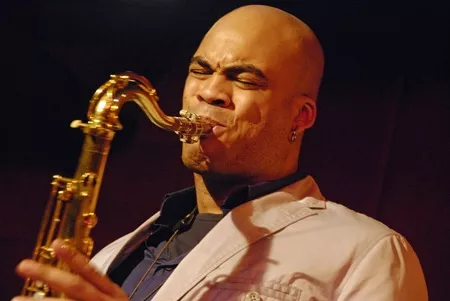 Wayne Escofferery at The Jazz Standard. Photo credit: Perry Tannenbaum
Wayne Escoffery @ The Jazz Standard (***1/4) – Already in the rotation of topflight players who have been booked at Dizzy's for multiple engagements, London-born Escoffery boasts a hard-driving style that combines the timbre of Coltrane with the brusqueness of Sonny Rollins. He plays a lot of tenor sax – and very frequently plays it at the Jazz Standard, where he is a mainstay – the mainstay – in a variety of Mingus memorial bands that perform there nearly every Monday night. Matter of fact, Escoffery was a featured soloist on the Mingus Big Band Live at Jazz Standard CD that won the 2011 Grammy Award for Best Large Jazz Ensemble Album.
We caught Escoffery less than three weeks before the Grammys fronting a new quintet with a unique lineup that showcased two keyboard players, Orrin Evans on piano and Adam Holzman on synthesizer. They played an all-Escoffery playlist of original tunes he has never recorded. Actually, he petitioned the audience to help him decide on a title for the newest of his five compositions. With the addition of Holzman, Escoffery is clearly exploring new vistas: there was a moody fadeout by the leader over a spacey synth background on "If I Am Who You Are" and some probing interplay between the two keyboards introducing "The Only Son of One." At other times, Holzman didn't seem part of the core concept, and when he did solo on "Selena's Song," the former Miles Davis band member didn't sound completely on-board with the whole jazz thing.
Less cramped than the Iridium and less posh than Dizzy's, the Jazz Standard has plenty going for it in the price-value equation. Since the club is downstairs from the Blue Smoke restaurant, that equation includes the menu. Sitting a tad closer to the bandstand than for the previous night's Grace Kelly set, I was a little surprised that Sue didn't ask to move further back. She wasn't as fired-up by Escoffery as I was, be she liked his music better than I expected.
Grace Kelly at The Jazz Standard in New York. Photo credit: Perry Tannenbaum
Grace Kelly @ The Jazz Standard (***) – This Korean phenom is barely old enough to vote, yet she has already recorded six CDs under her own name in the past six years, including one with fellow alto saxophonist Lee Konitz, a certifiable jazz immortal. A new tribute to Phil Woods, Man With a Hat, has yet to be released – with Woods contributing his estimable alto chops. The set we heard leaned heavily on the playlist for the new album, with trumpeter Jason Palmer replacing Woods on the title tune.
Palmer, with a couple of CDs under his belt, is another young artist on the rise. What he lacks in precocity vis-à-vis Kelly he more than makes up for in inventiveness, poise, and virtuosity. In addition to the mentors named above, Kelly counts Charlie Parker and Stan Getz among her key influences, so it's not surprising there were elements of cool jazz, bebop, and – when she switched to vocals – even a touch of bossa nova in her set.
She was most impressive blowing her ax, screaming with full Phil Woods fire on "The Way You Look Tonight" and intimately duetting with bassist Evan Gregor on Thelonious Monk's "'Round Midnight." Palmer was consistently fine in every tempo, especially nifty when he subbed for Woods on the deep-grooved "Man With a Hat," his bebop expostulations reminding me of Dizzy Gillespie. This could develop into an extraordinary combo if Kelly holds it together.
Tosca (**3/4) – From what I read last season and what I finally saw live at a Saturday matinee, the new Luc Bondy production of Tosca no longer shocks Met subscribers. Boos showered down on Bondy when he and his artistic braintrust came onstage to take their bows on opening night back in September 2009. But he and his fellow conspirators have permanently fled the scene of their crimes, so there was no proper target for audience outrage – and no new surprises to spark it.
Perhaps the staging of Tosca's florid suicide has been refined, but I didn't find it nearly as laughable as reported. And for anyone accustomed to the ministrations of directors with classic theater texts, a Tosca without candles and crucifix to mark Scarpia's death at the end of Act 2 is a show that can go on without cardiac arrest. I get the whole church connection with Act 1 and all, but really: after viciously murdering the monster who had tortured your spouse, would you solemnize his death with memorial candles and lay a crucifix on his chest? Even a pious Italian Catholic might skip that ceremony.
What matters most is a Tosca that's well-acted and sung. We nearly closed the deal here with a thrilling Cavaradossi from Marcelo Álvarez whose throbbing tenor arias stamped him as worthy of Tosca's fierce jealousy and love. Yet Álvarez was nearly upstaged by the implacable malignancy that baritone Falk Struckman made out of Scarpia, arrogant in his open decadence. So if Sondra Radvanovsky had been the tempestuous hellcat diva we need at the heart of all this melodrama, Bondy's blunders would hardly matter.
But Radvanovsky is an amazingly bland Tosca. Blessed with an unusually strong voice, the soprano ignores her natural strengths and sings with a smooth suppleness that was missing from her arsenal when I first heard her at Spoleto in 2000 as Verdi's Luisa Miller. Forget about candles. Cultivating artfulness, Radvanovsky has tossed away the flaming torch Tosca should be carrying for her Cavaradossi – and the explosiveness of a woman who will do anything to anybody who touches her man. (Returns on March 25)