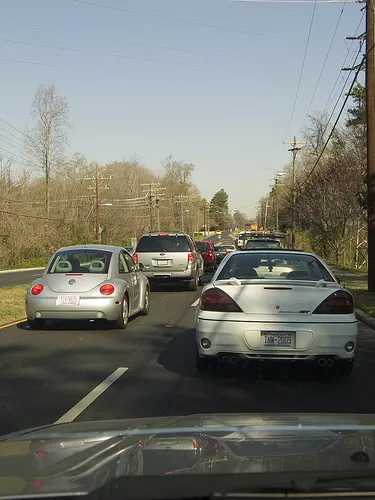 Thanks to Andy Ciordia for this photo of Charlotte traffic.
In case you haven't noticed, gas prices are up and everyone's predicting they're going to keep rising for the foreseeable future. Add that to the nonsense that passes for mass transportation around here, and you've filled your newspaper.
Here are a few of the transportation- and oil-related headlines in the news today:
Concord rail crossings are closing, a ramp on Brookshire Boulevard is closing, too, and the DOT's all up in Independence Boulevard's business. Oh, and I-77 still sucks near I-485 in south Charlotte ... but that's not really news, is it?
Experts: Gasoline could top $4 per gallon by April — The Gaston Gazette
Many issues spike fuel prices — News & Observer
Oil falls below $105 as OPEC mulls raising output — Yahoo! News/Associated Press
Yes, the world still has plenty of oil, but ... — MSNBC.com
Wall St flat as Libya turmoil continues, oil eases — Reuters
Race for better biofuels heats up — MSNBC.com