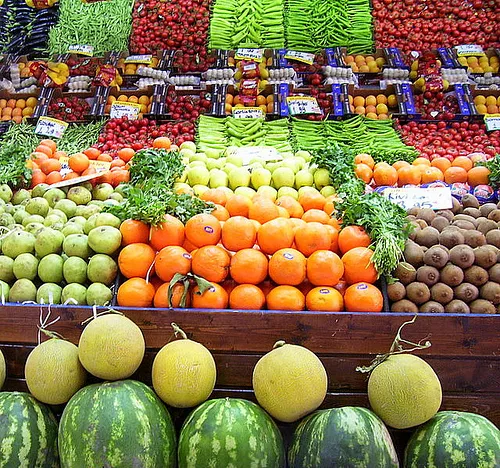 Kids, these are examples of whole foods. (Thanks to muammerokumos for the photo.)
Please be reminded that dietary "science" is in its infancy and most of what passes for science is actually marketing.
Beneath all the hype and product pushing, the facts remain the same: The secret to successful weight loss is to eat less and exercise more. The end.
Plus, let's get real: "low fat" often equals "highly processed." Want to get healthier? Eat whole, unprocessed foods.
From CivilEats.com:
The low-fat trend finally appears to be on its way out. The notion that saturated fats are detrimental to our health is deeply embedded in our Zeitgeist—but shockingly, the opposite just might be true. For over 50 years the medical establishment, public health officials, nutritionists, and dieticians have been telling the American people to eat a low-fat diet, and in particular, to avoid saturated fats. Only recently, have nutrition experts begun to encourage people to eat "healthy fats."

This past December, the Los Angeles Times reported that excess carbohydrates and sugar, not fat, are responsible for America's obesity and diabetes epidemics. One of the lead researchers in this field, Dr. Frank Hu, professor of nutrition and epidemiology at the Harvard School of Public Health, said, "The country's big low-fat message backfired. The overemphasis on reducing fat caused the consumption of carbohydrates and sugar in our diets to soar. That shift may be linked to the biggest health problems in America today." Another expert, Dr. Walter Willett, chairman of the department of nutrition at the Harvard School of Public Health, said, "Fat is not the problem."

Last month, Martha Rose Shulman of the New York Times Recipes for Health section, wrote that she's taken the "no low-fat pledge." Shulman writes, "I took a pledge the other day that will surprise my longtime followers. It even surprised me. I pledged to drop the term 'low-fat' from my vocabulary."

Shulman, an influential food and recipe writer with over 25 books to her name, has long promoted low-fat and light cooking, but now writes, "There are many recipes in my cookbooks from the 90s that now look and taste dated to me. I've put back some of the oil and cheese that I took out when editors were telling me to keep total fat at 30 percent of total calories–a concept that is now obsolete even among policymakers."
Read the entire post, by Kristin Wartman, here.