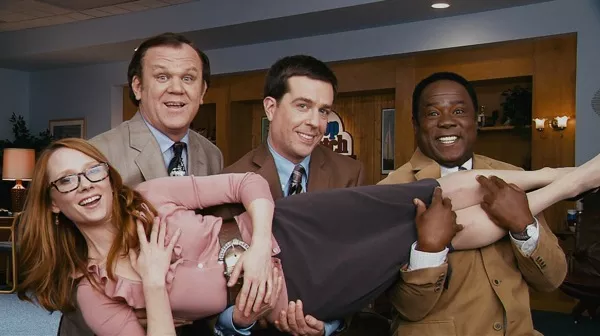 By Matt Brunson
CEDAR RAPIDS
**1/2
DIRECTED BY Miguel Arteta
STARS Ed Helms, John C. Reilly
Cedar Rapids is a low-rent version of the sort of raunchy comedy that's all the rage these days, but it wears its modesty rather well. In fact, its reliance on vulgar gags is so sparse that it's somewhat startling when this ends on an outtake of co-star John C. Reilly mixing flatulence and flick-a-BIC. But we're getting ahead of ourselves.
The plot of this amiable comedy centers around Tim Lippe (Ed Helms), a dorky insurance agent who's never ventured outside his hometown. So it's a big deal when his company sends him to the annual convention in Cedar Rapids, Iowa, with the task of returning home with the event's top sales prize. But Tim's attempt to snag said honor frequently takes a back seat to hanging out with his new pals, including the obnoxious Dean Ziegler (Reilly), the reserved Ronald (Isiah Whitlock Jr.) and the flirtatious Joan (Anne Heche).
It's the same outline often employed in these types of films (e.g. The Goods: Live Hard, Sell Hard, also featuring Helms), but because the writing is a bit sharper and the characters more fleshed out than expected, there's actual interest in seeing how the story pans out and what happens with these people. Empathic feelings aren't usually engaged with this sort of fare, but Cedar Rapids manages to sell the idea, if just barely.