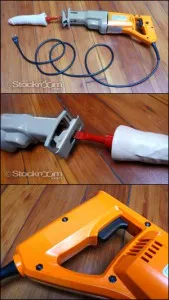 Thanks to MachinePleasure.com for the photo.
I just about fell out of my chair when I read this Daily Beast story about a professor who invited sex demonstrators to class — demonstrators who came armed with something called a "fucksaw." (See photo.)
I was laughing as I envisioned the reaction if something like this happened at one of Charlotte's universities. I am pretty sure heads would literally explode. (Not those heads, perverts. Well, OK ... those heads, first.)
It was bizarre, say students—even for a professor who gets off (excuse the pun) on controversy. On Feb. 21, after a lecture on sexual arousal, students in Northwestern University psychology Professor J. Michael Bailey's human-sexuality course were given the option to stay for a guest presentation. Most were used to these sessions: With topics like "The Gay Guys Panel" (gay men talking about their sex lives) and Q&A sessions with transgender performers, the optional add-ons were part of what made Bailey's class one of the most popular on campus.

But this particular lecture was, shall we say, different. Led by a man whose website describes him as a "psychic detective and ghost hunter," it was called "Networking for Kinky People," and began with a towel placed neatly on the auditorium stage. Next, a woman took her clothes off, and—with an audience of around 100—lay down on her back, legs spread. As students moved forward from the theater's back seats, for a closer view, "The girl grabbed the mic," says Sean Lavery, a Northwestern freshman. "She explained that she had a fetish for being watched by large crowds while having an orgasm."

No, the girl involved was not a student. Yes, she was over 21, we're told—and the guy stimulating her was introduced as her boyfriend. "It was a committed couple who did the demonstration, and it happened at the end of the class," says Ken Melvoin-Berg, the guest speaker, who helps operate a tour company called Weird Chicago that offers sex tours.

We'll spare you the gory details—but let's just say they involved the woman's boyfriend bringing her to climax on stage, using a contraption called a "fucksaw," and plenty of gasps, not just from flabbergasted students. "I was gauging everyone's reaction," says Lavery, who's been in Bailey's class since January. "I think everyone was just like, 'Is she really doing this right now?'"
Read on to read about the ensuing controversy.
The above post, by Jessica Bennett, made me think of something I saw on Twitter the other day. Charlotte's own LivingSexuality (aka Becky Knight, sex educator) shared a link to a blog post composed by Edward A. Dreyfus, Ph.D., a clinical psychologist. In it he wonders why we can't talk about sex at the dinner table.
Here's a snip:
People, especially Americans, are very awkward when it comes to their attitudes and behaviors about sexuality. We will share recipes for good cooking, but not recipes for good sex. We take cooking classes and dance lessons, as well as lessons in anything else, but when it comes to sex we are on our own to learn by trial and error. As a sex therapist I am always surprised by how uncomfortable people are with their sexuality, how little they actually know about sexuality, and how misinformed they are about various aspects of sexuality.

Here are some questions to ponder:

If sex is beautiful, why don't we talk about it at the dinner table?

If sex is dirty, why save it for someone you love?

How can something dirty become beautiful when one gets married?

If we want our children to have fulfilling sex lives, why are we so uncomfortable talking to them about it?

Why do we talk about the dangers of sexuality more than we do about the beauty of sexuality?
He goes on to say:
I can envision that sexual conversation could be as comfortable as talking about recipes for making one's favorite dish. In this way, children would learn early in life that sex, like cooking and eating, is a natural human function to be enjoyed and appreciated.
Read the entire post here.
I'm going to have to agree with the professionals here: We're prudes, but we can change that.
Rhiannon Fionn-Bowman is an independent journalist who contributes commentary on Creative Loafing's CLog blog four days a week in addition to writing for several other local media organizations. To learn more, click the links or follow Rhi on Twitter.