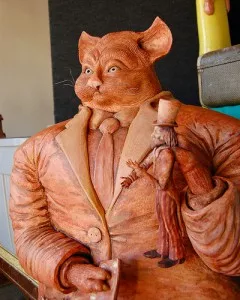 Notice how the Fat Cat is treating Uncle Sam like a baby doll? (Thanks to Marilyn Brinker for the photo.)
All right, I admit it. Sometimes when I read the big O's banking news I want to vomit*. You can almost see the newspaper petting Charlotte's darlings on the head — or maybe it's vice versa.
In this corner, we've got Charlotte's daily applauding big bonuses for bankers:

In a plus for the local economy, bonuses are landing in the checking accounts of Bank of America and Wells Fargo employees this time of year.

The payouts range from $500 bumps for rank-and-file employees at Bank of America to multimillion-dollar stock grants for executives at both banks.

As the banking industry slowly recovers, the incentive compensation is a boost for a city that suffered a major setback in the nation's financial meltdown.
Read the entire article here.
Yea! You're waving your pompoms around, right? Woo hoo! Bonuses. Weee!
Meanwhile, The New York Times is reporting that the Security Exchange Commission is ready to crack down on bonuses:
Lavish Wall Street bonuses, long the scorn of lawmakers and shareholders, have met a new foe: the Securities and Exchange Commission.

The agency on Wednesday proposed a crackdown on hefty compensation awarded at big banks, brokerage firms and hedge funds — a move intended to rein in pay packages that encouraged excessive risk-taking before the financial crisis.

The proposal would for the first time require Wall Street firms to file detailed accounts of their bonuses with the S.E.C., which could then ban any awards it deemed excessive. The rules would be aimed at top executives and hundreds of rank-and-file employees who receive incentive-based pay.

The move by regulators to have more say on Wall Street pay highlights the huge role financial institutions play in the economy. Although it would be highly unusual for the government to review the compensation of executives in most other industries, big banks pose a systemic risk to the system and in 2008 pushed the economy to the brink.
Read the rest of this post, by Ben Protess and Susanne Craig, here.
* I'm sure the feeling is mutual.
Rhiannon Fionn-Bowman is an independent journalist who contributes commentary on Creative Loafing's CLog blog four days a week in addition to writing for several other local media organizations. To learn more, click the links or follow Rhi on Twitter.