To see previous post, click here.
Off-Broadway
The Divine Sister (***1/2) – Rejoice greatly, for Charles Busch has a new drag shtick in his arsenal, donning the holy habit and taking us to a nunnery, where he stars as the Mother Superior, nee Susan Appleyard, in desperate need of a benefactor. While he's at it, Busch's latest lampoon takes aim at Agnes of God, with a postulant named Agnes equipped with all the requisite visions, voices, and stigmata.
Photo credit: David Rodgers
Plotting is deliciously intricate and extravagant as visitors include an old flame with a fabulous 11-inch dong and a German nun with wild ulterior motives – and an accent inspired by the Third Reich. The old flame, Jeremy, is still a reporter – the occupation Mother Superior fled from – trying to get the scoop on Agnes. Even the prospective benefactress, Mrs. Levinson, figures into the untangling of the mysterious past.
Nothing is as it seems. Kitchen sponges are the bricks of the holy sanctuary, and Levinson's glittering chandelier is plates and silverware. Busch's diva antics get plenty of hilarious support, Alison Fraser endowing Sister Walburga with Satanic menace and a Teutonic squint, and Julie Halston effectively butch and repressed as Sister Acacius, the convent's wrestling coach. Amy Rutberg is more weird than transcendent as the otherworldly Agnes, veering suddenly into comedy when she experiences her crisis in faith.
Hard to say which of the shticks drew the largest belly-laughs. Prime candidates are the gagging reflex (a Levinson family trait), the dong monologue, or the classic "What is it you can't face?" routine. Mother Superior's sanctimonious right-wing sentiments were the lagniappe on this heartwarming tribute to motherhood and faith.
Cymbeline (***1/2) – Okay, so I saw this Shakespeare Theatre Company production in Washington, DC, way off Broadway. But perhaps your trip to New York is by land instead of air. If so, DC is an ideal stopping place for theater pilgrims, and not just for this pre-eminent company. Quality is quite competitive: this was my third STC production as well as my third Cymbeline, and while it wasn't quite as satisfying as the Lincoln Center version of 2007, I liked it far better than the Cymbeline staged at The Globe in London, my first exposure to the piece.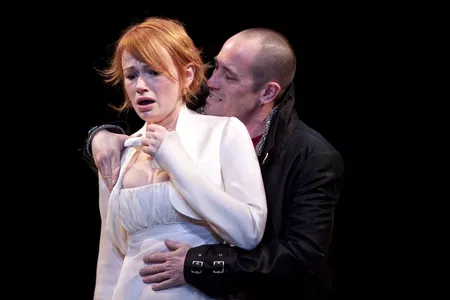 Approaching the script, which lies between Antony and Cleopatra and The Winter's Tale in the Bard's oeuvre, director Rebecca Bayla Teichman hedges on whether we're to see the tale in two or three dimensions. There are numerous stylizations that flatten the action. A Storyteller, Dee Pelletier, greets us at the outset, narrating to a Girl (little Zoe Wynn Briscoe), casting an initial bedtime fairytale spell. The evil Queen connives and plots like a Disney concoction at times, and her ridiculous son Cloten, who comes courting the sublime Princess Imogen on a motor scooter, is even more cartoonish.
Yet Imogen is a true tragic heroine in Gretchen Hall's charming, grimly determined portrayal, yearning for her banished husband Posthumus with disarming simplicity while intrigues swirl around her. And when the cynical Iachimo comes from afar to test her virtue, with no better motive for his seduction than a bet, Adrian LaTourelle oozes a malevolence that ranks with the scurviest of Shakespeare's villains. Climactic battle scenes between the Brits and the Romans, though stylized, literally drip with stage blood.
Teichman's way with Shakespeare is certainly provocative, but her decision to blend seriousness with stylized fantasy and silliness – instead of comedy – subtly drains the script of its gravitas, despite LaTourelle's turpitude and Mark Bedard's plausible waywardness as Posthumous. Where Franchelle Stewart Dorn is a nasty bumbler as the Queen, Phylicia Rashad was a force to be reckoned with in the Lincoln Center production, magnificent in her malignity. A darker core of evil in Cymbeline's kingdom would have added dignity to Imogen's long journey to find the light. (Through March 6)
Love, Loss, and What I Wore (***1/4) – Adapting the book by Ilene Beckerman, Nora and Delia Ephron confounded my expectations. For the show isn't as girly as Girls Only nor as wholesome and sanitized as My First Time, the two most comparable shows we've seen here. A revolving galaxy of celebs play the five roles, reading their parts from behind music stands at the intimate West Side Theatre.
Like the best staged readings, Love, Loss bears the imprint of fastidious rehearsals, thanks to the stylish direction of Karen Carpenter. One of the five actresses, Anita Gillette through February 13, sort of frames the parade of narratives with successive installments of "Gingy's Story," a lifelong saga presented with illustrations of the pertinent outfits. Meanwhile a wide swath of subject matter – purses, bras, boots, sweaters, and the inevitable bridal dress – gets a brisk airing from the other four actresses.
Yes, there are some feminine stereotypes mined with sharp stand-up comedy wit, but parts of this show are surprisingly tender and touching.
Through the Night (***1/4) – Charles Randolph-Wright is best remembered in the Metrolina area as the playwright who wrote Blue, produced at Actor's Theatre in 2009, and the producer/director who brought the Create Carolina festival to Winthrop University in 2007-08. He's currently involved in the New York scene as the director of this engrossing 76-minute one-man show, written and performed by Daniel Beaty. It timeshares the West Side Theatre with Love, Loss, and What I Wore, playing there weekly on Monday evenings.
Beaty divides the stage in three to tell three loosely interlocking stories that converge tragically toward the end. Foremost, we're preoccupied with Eric, a young lad who spends most of his time trying to concoct a magical tea, and his dad, Mr. Rogers, struggling to make ends meet running a health food store. Then there's the Bishop Sanders and his son Isaac. While the Father fights a losing battle against his addiction to Ho Hos, Isaac tries unsuccessfully to come out of the closet, prodded by his boyfriend Twan. Lastly, there's Dre, a recovering addict who works for Isaac at a music company, kept from going to college by the girlfriend who is having his baby.
While shuttling among these characters – and a half dozen more, if we include the Angel and Devil perched on the Bishop's shoulders – Beaty works in some poetry, some singing, and some sermonizing. Randolph-Wright has a hand in the excellent pacing and in making sure that message and emotion are counterpoised with comic relief.
And the central strain of Beaty's preaching, more about health than spirit, is deftly woven into the storyline. There's a clear connection between the Bishop's losing battle against obesity, the uphill battle for a health food store in a ghetto, and the careless use of drug needles spreading HIV. By refusing to resolve all his storylines happily, Beaty doesn't have to make his points too insistently.
Freud's Last Session (***) – We're getting to know C.S. Lewis quite well in Charlotte, with The Lion, the Witch, and the Wardrobe preceding The Magician's Nephew at ImaginOn, heavy doses of Narnia at local cineplexes, and the stage version of Lewis's The Screwtape Letters coming to Knight Theater next month. Playwright Mark St. Germain bases his drama on the flimsy speculation he encountered in The Question of God by Dr. Armand Nicholi that Freud might have met Lewis after the Nazis drove the Freud family out of Vienna in 1938 and they settled in London.
St. Germain not only has them meet, he has them engage in a titanic debate on the existence of God. Ratcheting up the drama, the playwright has them meeting on September 3, 1939 – the very day of King George VI's Oscar-contending speech – less than three weeks before Freud died. So Freud's atheism is being doubly tested, by the approach of the Grim Reaper, and by the sound of air-raid sirens and bomb blasts through the city.
The young and brilliant Lewis, portrayed by Mark H. Dold, enters Freud's office with a gas mask, and during the course of their disputations, both of them must don their masks and duck for cover. Naturally, Lewis wonders if Freud is praying as their lives seem imperiled.
Lewis hasn't written Narnia yet, but he had undergone a conversion from militant atheism to Christianity in 1931 – that's why Freud has invited him into his lair. The play is scrupulously researched, so the arguments by the antagonists hang handsomely on the life events that shaped them. We also see Freud living with the mouth cancer that would ultimately claim his life. Lewis must help Freud to extract the prosthesis that has replaced his jaw during many surgeries, bringing the men together in yet another crisis.
Moments like these tilted my sympathies decisively toward Freud. There is just so much more depth and humanity to the man, and Martin Rayner fuses Freud's sufferings with his atheism, enhancing his heroism in a magnificent performance. Prosthesis or no, he will still smoke his cigars. Poor Dold has nothing close to that to work with.