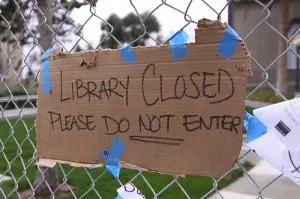 Thanks to Tito Perez for the photo.
Who's ready to lose another library? Not I. This is heartbreaking news, y'all. If you don't understand why, I urge you to spend the afternoon at the library nearest you ... assuming it's open.
A plan to close more libraries is among the proposals that could be up for a vote Tuesday as a volunteer committee settles on recommendations to cut costs and make the library system more efficient.

The Future of the Library Task Force must submit its final recommendations next month. Among the items members will discuss and possibly act upon include: Whether to increase hours, staffing and resources at the regional libraries. Those changes would come at the expense of the smaller branch libraries, and some are likely to close.

Whether the libraries should become a department of county government.

Whether ImaginOn, which is not a typical library branch, should remain part of the system or come under control of the county, with its own board of trustees.

The creation of a committee that would study whether services at the "under-utilized" Main Library building in uptown could be more cheaply offered in other locations.

The committee also would determine what would be done with the building, including the possibility of lending office space to the county for its services.

Final recommendations will be submitted March 21 to county commissioners and the library Board of Trustees, which will decide what steps to take.
Read the entire MSNBC.com/WCNC article, by Mark Price, here.