For previous post, click here.
Broadway
Driving Miss Daisy (***1/2) – Two powerhouses, Vanessa Redgrave and James Earl Jones, square off in this revival of Alfred Uhry's lapidary delight, and it's fascinating to watch the titans squeezing into the skins of retired gradeschool teacher Daisy Worthan and her déclassé chauffeur Hoke Coleburn. Redgrave must make the mightier leap to become an Atlanta matron, and director David Esbjornson adds a couple of wrinkles – in the pivotal canned tuna scene and at the old age home – that bring freshness to Daisy.
Otherwise, while devoutly avoiding all that Jessica Tandy brought to the role in her Oscar-winning performance, Redgrave often seems to be at a loss about what to give us instead. The same problem infects Boyd Gaines's portrayal of Daisy's son Boolie. We see more of the man's stuffiness than we did in the film, adding an extra edge to the businessman's discomfort when his mom decides to attend a Martin Luther King speech, but the indulgent humor and geniality of the man goes missing. This is not the Boolie that Uhry had in mind when he calls his mamma a "doodle."
Uhry may not have envisioned the coarseness that Jones injects into Hoke, but the new bursts of energy that we find in Daisy's chauffeur are a marvel. What Jones does in the two scenes where Daisy gives Hoke the gift of literacy is so powerful that it brings into question why Uhry didn't develop this thread more fully in his script. On the other hand, Jones tends to skate over the moments that Morgan Freeman made so memorable with a breathtaking nonchalance.
Intensity peaks in the final scene at the old age home. Until then, the lithe, athletic Redgrave has at times seemed a bit too young as Daisy, though she turned 73 two days before the performance we witnessed. Sitting in her high chair as Hoke spoonfeeds her, Redgrave plays the scene toothless. So the crusty old English teacher can hardly speak. The effect is shattering. (Through April 9)
The Addams Family (***1/4) – While the TV series is the jumping-off point for Andrew Lippa's music and lyrics, Marshall Brickman and Rick Elice seem to have ransacked You Can't Take With You even more thoroughly than the famed Charles Addams cartoons for their book. How Wednesday Addams and Lucas Beineke would have met, dated, and committed their hearts to one another are apparently superfluous dimensions in this sketchpad universe, but we do get ignition and lift-off when the bland Beineke Family from Ohio are somehow maneuvered into the grandly decaying Addams manse.
Until then, the creepy celebration of eccentricity induces only a modicum of longueurs, thanks to the musical comedy exploits of Nathan Lane as Gomez and Bebe Neuwirth as Morticia. But their conventional "Where Did We Go Wrong" in Act 1 hardly prepares us for the splendor of their "Tango de Amor" deep in Act 2. Kevin Chamberlin ably reprises the requisite Jackie Coogan geniality as Uncle Fester, and understudy Valerie Fagan filled in superbly as snaggle-toothed Grandma with all the assurance of an actress destined for the frontline of the touring company.
Carolee Carmello seethes with sitcom libido as the undersexed Alice Beineke, but Terrence Mann as the stuffed-shirt dad seems terribly wasted until his showstopping "In the Arms of a Squid." Krysta Rodriguez and Wesley Taylor as the lovebirds have their best moments in the "Crazier Than You" duet with its cheesy William Tell tech. "Just Around the Corner," with its kick-line of Addams ghouls, is even more on-target – and sure to travel well. But we can only hope that the touring version also includes the best performance by a stage curtain that Broadway has ever seen.
American Idiot (**3/4) – We find out early, in this theatrical re-mix of Green Day's 2004 album, that there isn't much shaking in America's hollow suburbia. But the Green Day music, with lyrics by Billie Joe Armstrong and book by Armstrong and stage director Michael Mayer, is potted up high enough to assure us that whatever is shaking is doing it VERY LOUDLY!!!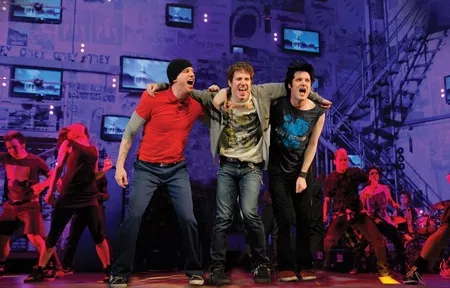 Now that was sufficient reason for me to wish to escape the strangely conceived suburbia at the St. James Theatre, but our three protagonists – all sterling examples of the steely malaise of young white America – have different motives, none of them excessively concrete. The ringleader of this budding on-the-road adventure, Johnny, is quickly abandoned by his chums. Tunny has the grander arc to his adventures, joining the military, going off to war, and coming home an amputee – with a hot nurse. On the flipside, Will turns back before the barnstorming even begins, because his girlfriend is pregnant.
That leaves Johnny to carry out his noble quest alone, falling prey to drugs and getting himself entangled with a city slut.
As these three divergent storylines coalesced, with a healthy dose skepticism aimed at these purposeless idealistic lives unfolding before us, I found myself liking the Armstrong-Mayer concept. Between the loud parts. I probably would have liked American Idiot even more if the cast had shown up. Instead of John Gallagher, Jr., the unforgettable misfit in Spring Awakening, we had all-purpose standby Van Hughes as Johnny, a fairly sensational rock singer who is incurably wholesome.
Tunny understudy Ben Thompson was more satisfying in the more patriotic role, but the other understudy, Chase Peacock as St. Jimmy was fairly fabulous as the heavy-metal personification of coke, heroine, and incautious needle use. The women aren't angelic either, with the exception of Christina Sajous as Tunny's VA Hospital vision, The Extraordinary Girl. Rebecca Naomi Jones handles the mercenary sensuality of Johnny's pickup, Whatsername, with luscious aplomb, and Jeanna de Waal is the essence of slatternly domesticity as Heather, Will's albatross.
Hey, as Johnny sings a regretful "Whatsername," after his less-than-joyous homecoming, he seems to realize the chick wasn't so bad. But collectively, the portrayal of women in American Idiot doesn't rehabilitate the image of hard rock as the exclusive playpen of macho sexist louts.
So yes, Green Bay beats Green Day too.
To be continued...