At a town hall hosted Tuesday by Rep. Paul Broun, (R-GA), an audience member asked the congressman, "Who is going to shoot Obama?" The question got a big laugh from the rest of the Oglethorpe County, Georgia audience, according to Blake Aued of the Athens Banner-Herald. The congressman did not repudiate the question, didn't even say something like, "That kind of talk doesn't belong in my idea of America." Heck, he didn't even flinch. Instead, the elected representative merely said, "I know there's a lot of frustration with this president. We're going to have an election next year. Hopefully, we'll elect somebody that's going to be a conservative, limited-government president." Broun then, Aued wrote, "segued into Republicans' budget proposal." And that was it.
Broun is a member of the Tea Party Caucus, and is considered one of the most far-right members of Congress, which, in the current House, is saying something. He's the guy, you may remember, who skipped the State of the Union Address and, instead, tweeted from his office about how Obama is a "socialist."
After the town hall, Aued, the reporter, asked Jessica Morris, Broun's press secretary, about the congressman's non-reaction to the question. Morris replied, "Obviously, the question was inappropriate, so Congressman Broun moved on."
"Inappropriate"? More like, "begging for a visit from the Secret Service." For Broun to casually slough off a constituent's statement that he supports shooting the president is simply, and utterly, outrageous — and something for which the GOP House leadership needs to at least call Broun on the carpet. Hell, even Sen. McCain, in the heat of a presidential race, had the poise and guts to tell a woman who claimed "Obama is an Arab" that her remarks were out of line.
The town hall took place Tuesday, but it wasn't until today, Friday — after Broun's non-response triggered a viral Internet firestorm — that the congressman finally released a statement calling the constituent's question "abhorrent," noting that his office had notified the Secret Service, and declaring that "Such rhetoric cannot and will not be tolerated." Except, apparently, when it's at one of your own town hall meetings and you're not aware that the press is paying attention.
As one, anonymous master of sarcasm put it in a comment on the TalkingPointsMemo site, "If only a Congressperson had been shot recently to teach us the danger of violent rhetoric, maybe we'd learn something."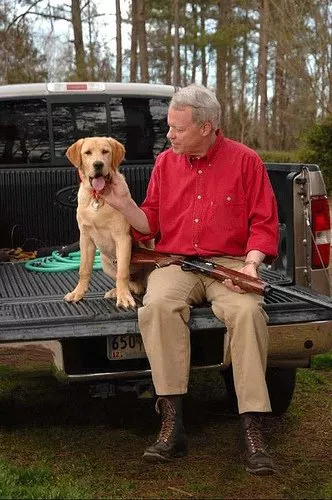 Rep. Paul Broun and his trusty retriever get ready for the hunt