Check out these events going down in Charlotte and the surrounding area this weekend— as selected by the folks at Creative Loafing.
Friday, Feb. 25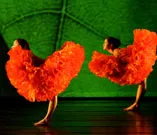 Botanica
Knight Theater
Contemporary dance company Momix is known for making illusionists out of its dancers. In Botanica, the latest blossoming addition to its repertoire, it goes all natural. The multimedia show — choreographed by Moses Pendleton — stems around fantasy-styled puppets, music, props and costumes, in addition to a cast firmly rooted in complex moves. The plant-based spectacle takes viewers on a journey through a series of enchanting landscapes, representing the four seasons.
• Nightlife Red and white stripes are mandatory during the Where's Waldo Bar Crawl. In an attempt to break the Guinness World Record for "the most people dressed as Waldo in one place," comes this event, including free entry to any venue at the EpiCentre all night long. Just be sure not to get separated from your party, as they might be a little hard to find. Proceeds raised will benefit Pints for Prostates. more...
•Special Event Dialect Gallery will celebrate the release of Topograph: New Writing from the Carolinas and the Landscape Beyond — a literary anthology created in honor of the 20th anniversary of the Novello Festival of Reading. The special event will feature a new exhibit in which artists have created paintings, sculptures, photographs and installations, all of which were inspired by poems, short stories and essays in the anthology. more...
Saturday, Feb. 26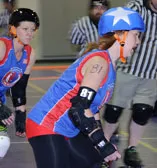 Charlotte Speed Demons
First Ward Recreation Center
The action of watching speedy gals wheel around, as they bump their rivals straight outta the way is pretty entertaining. This Saturday, you can see for yourself, as The Charlotte Speed Demons kick off its 2011 roller derby season with a bout against Columbia's Bad Co.
• Comedy Comedian Tony Tone likes to do impressions. During his stand-up performances he typically shares his take on popular public and entertainment figures (from Bill Clinton to Chris Rock), as well as his own humorous experiences in everyday life. Check him out when he performs two shows at The Comedy Zone Fort Mill tonight. more...
• Music Ten years after their formation, the Bad Daddies have earned the right to say their a little bit more than a cover band. But in celebrating their anniversary, fans should expect the things they've come to enjoy the most from this party band, covers of Led Zeppelin, ABBA, the Grateful Dead, even Prince and Michael Jackson. Better yet, it won't cost you a dime, they're just sharing their love with you. more...
Sunday, Feb. 27
Rory Scovel
Wok Bar
New York-based comedian Rory Scovel is a hoot. In his act, he presents the absurdity that can be found in everyday life situations. You may have seen his stand-up on Late Night with Jimmy Fallon and Comedy Central's Live at Gotham, but in case you haven't, take my word for it: He'll make you laugh. See for yourself when he performs at Wok Bar with fellow comedians Steve Forrest (He's local and we know he's funny too) and Scott Moran.
• Theater UNC Charlotte's Department of Theater is deeply rooted in its latest production, Rowing To America: The Immigrant Project. The show is described as exploring the experience of immigration, emigration and migration through a series of culturally diverse one-act plays. more...
• Food The menu at Akahana Asian Bistro, Bar & Sushi has dozens of entrée choices, plus a lengthy sushi list and 21 starter selections. The Dragon roll is brash with slashes of fire tempered by sweet eel and avocado while a sly hint of salty roe seduces the crispy soft shell crab on the Spider roll. more...