Looks like The Who had it wrong: the new boss isn't same as the old boss; he's worse. At least in North Carolina. The new Republican majority in the General Assembly came in with budget guns a-blazin', threatening to cut off money for already-underfunded services for the poor, and wreck the state's public schools (not their exact words, of course). But first ... let's spend a boatload of money on projects that only benefit a tiny minority of the population, aka wealthy campaign donors. How much is a boatload? In this case, it's enough money to pay for nearly 1,900 teacher jobs, or more than 4,000 teacher assistants.
We're talking about a bill that will be considered tomorrow by the state Senate Agriculture, Environment and Natural Resources Committee. If passed, the bill would allow as many as 10 "terminal groins," aka rock piles, to be built on beaches at inlets between islands on the N.C. coast. The purpose is to supposedly control beach erosion and, more importantly, protect the McMansions of people who decided to build on literally shifting sands. A state study projected that each of the groins could cost as much as $10.8 million to build and $2.3 million to maintain and monitor each year. That's at least a $100 million investment, which the bill in question would allow to be paid by tax money.
Under Democratic leadership, some big shots had their beach property helped by the state. The Dems, however, did make terminal groins illegal on ocean beaches in N.C. more than 25 years ago, and for a good reason: the big rock piles collect sand at a particular spot, but at the expense of other beaches farther down the coast, which then erode more quickly. The ban on such groins along the beaches of our barrier islands has made N.C. beaches the envy of the Atlantic coast — particularly in comparison to some South Carolina beaches, such as the formerly delightful Edisto Island, where ugly-ass groins now mar the beach while erosion nevertheless continues to take its toll.
You can read more details about the bill at the website for the N.C. Coastal Federation. Here are a couple of excerpts from their article:
To protect the beaches, which are held in public trust for all of us, policymakers and legislators wisely decided to ban groins and other types of hard structures along the beaches of our barrier islands. The policy has made our natural beaches the envy of the country.

For several years now, people who built houses at the inlets that separate these islands have been asking legislators for help. Inlets are notoriously dangerous places. They change shape, sometimes overnight, and the ocean creeps closer or recedes farther away.

Property owners on Figure Eight Island, an exclusive private island north of Wilmington, have led the lobbying effort. They have given more than $100,000 to state and local politicians since 2004.
If you think it's ridiculous for wealthy campaign donors to be allowed to ruin the state's coastline — and at taxpayer expense, no less — at a time when lawmakers are slashing school budgets, let your state senator know about it.
As Adam Searing of NC Policy Watch wrote, "We might feel bad for folks who are trying to beat back the sea, just as we sympathize with people who invested with Bernie Madoff. But it is not our responsibility to bail them out, especially at a time when we are all being asked to tighten our collective belt."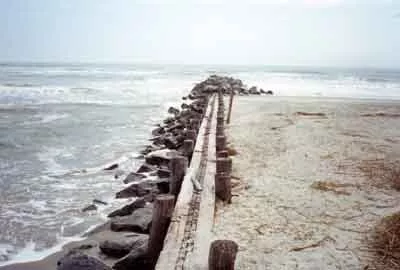 N.C. lawmakers want to bring these monstrosities to the state's beaches — and they want you to pay for it