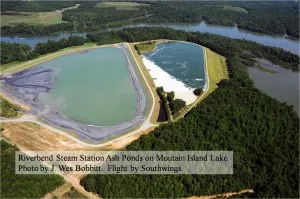 Because who really wants to drink clean water anyway ... right? Well, that depends on how much it costs. Right?
Oh, what? You want clean water no matter the cost? Well, tell that to the Republicans who've decided the U.S. Environmental Agency should be neutered.
Reps. Cliff Stearns (R-Fla.) and David McKinley (R-W.Va.) have offered amendments to a continuing resolution on the budget that would prohibit any funding of an EPA rulemaking on coal ash under Subtitle C of the Resource Conservation and Recovery Act, which regulates hazardous waste.

Last year the EPA released a long-awaited draft rule that proposed regulating coal ash -- the toxic waste produced by coal-burning power plants -- under either RCRA Subtitle C or Subtitle D, which applies to ordinary household waste.

The Subtitle C rules would set federally enforceable minimum standards for coal ash disposal and require the closure of dangerous coal ash ponds like the one that failed catastrophically at a TVA plant in eastern Tennessee back in 2008. However, electric utilities oppose the Subtitle C regulations, citing their expense. They want the EPA to regulate coal ash less strictly under RCRA Subtitle D, which would leave oversight up to the states and allow polluters to continue to dump coal ash in unlined ponds and landfills.
Read the entire Facing South post, by Sue Sturgis, here.