Susan Sarandon and Geena Davis in Thelma & Louise
By Matt Brunson
THELMA & LOUISE (1991)
DIRECTED BY Ridley Scott
STARS Susan Sarandon, Geena Davis
THE COLOR PURPLE (1985)
DIRECTED BY Steven Spielberg
STARS Whoopi Goldberg, Danny Glover
Director Ridley Scott's galvanizing Thelma & Louise, in which two put-upon women (Susan Sarandon and Geena Davis) hit the road after shooting a would-be rapist dead, created quite the stir when it debuted back in the summer of '91, being endlessly debated on op-ed pages as much as in A&E sections. This sleeper hit was quickly dismissed by some as a male-bashing fantasy and overanalyzed by others as a feminist manifesto; scripter Callie Kouri claimed that she intended neither. At any rate, this beautifully realized film remains a trenchant, almost mystical slice of Americana, with terrific turns by the two leads and an able supporting cast that includes Harvey Keitel as the sympathetic cop on their trail and Brad Pitt in his breakout role as a hunky hitchhiker. Nominated for six Academy Awards (including Best Actress for both leading ladies and Best Director), this scored Kouri the statue for Best Original Screenplay. In an interesting bit of trivia, Jodie Foster and Michelle Pfeiffer had first crack at the film, and Pfeiffer also turned down The Silence of the Lambs; Foster would go on to win the '91 Oscar for Silence over T&L's Sarandon and Davis.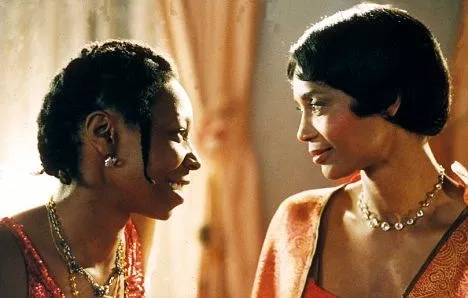 Whoopi Goldberg and Margaret Avery in The Color Purple
AFTER YEARS spent making fantastic popcorn pictures like Jaws, Raiders of the Lost Ark and E.T.: The Extra-Terrestrial, Steven Spielberg decided to direct what he considered his first "serious" picture. His adaptation of The Color Purple, based on Alice Walker's Pulitzer Prize-winning novel, was a highly controversial movie, earning harsh reviews from a handful of major critics, a condemnation from the NAACP, and even a famous dismissal by an industry insider who accused Spielberg of taking great source material and turning it into a "zip-a-dee-doo-dah Song of the South." On the other hand, the film did land on numerous critics' "10 Best" lists (including that of Roger Ebert, who had it in the No. 1 slot), grossed nearly $100 million at the box office, and snagged a whopping 11 Oscar nominations, including one for Best Picture ... but not for Spielberg as Best Director. (The movie still holds the record, along with 1977's The Turning Point, for earning the most Academy Award nominations without winning a single award.) Watching it again today, it's clear that this represents one of Spielberg's least confident turns behind the camera, as marked by the jarring shifts in tone during the picture's first half — scenes wildly fluctuate between, say, put-upon Celie (Whoopi Goldberg) cowering in fear from the abusive Albert (Danny Glover), and Albert's son Harpo (Willard Pugh) repeatedly crashing through a roof like a latter-day Keystone Kop. But thanks primarily to the performers — most notably Goldberg, Oprah Winfrey (in her film debut as the fiery Sofia) and Margaret Avery (as songstress Shug Avery) — the movie gains in strength the longer it plays out, with the second half housing some extremely powerful moments.
Blu-ray extras on Thelma & Louise include audio commentary by Scott; separate audio commentary by Sarandon, Davis and Kouri; an hour-long making-of feature; 40 minutes of deleted and extended sequences; an extended ending; and the music video for Glenn Frey's "Part of You, Part of Me."
Walker, Spielberg and co-producer/music composer Quincy Jones are among those interviewed in the various extras on the Blu-ray for The Color Purple. They include a 24-minute making-of featurette; a 27-minute look at bringing the project from book to screen; a 28-minute piece on casting the film; an 8-minute discussion of the music in the movie; and photo galleries.
For reviews of more new DVD and Blu-ray releases, check out tomorrow's View From The Couch column here at www.clclt.com/film.