Oklahoma City isn't quite as pretty as it was when it provided a rhyme for Nat "King" Cole in his recording of "Route '66" back in the '40s. Even since 1979, when Stephen Sondheim's Sweeney Todd, the Demon Barber of Fleet Street captured the Tony Award on Broadway for Best Musical – or since 1989, when CPCC Summer Theatre last brought Sweeney to Charlotte – Oklahoma City has lost most of its poetic cache. By the same measure, thanks to the murderous acts of Timothy McVeigh, Osama Bin Laden, and their demented, vengeful ilk, Sweeney Todd doesn't seem so odd.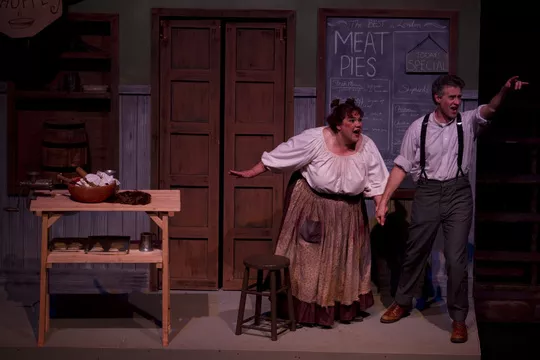 And I would suggest that Todd's recent counterparts, while robbing Sweeney of his oddness and his melodramatic Victorian patina, have only made the Demon Barber more realistic and frightening. Thankfully, many musicals in the past three decades have re-used the envelope that Sondheim stretched so brilliantly when he introduced the anti-hero to the American scene. So while Sweeney seems more contemporary and relevant in 2011, he has become considerably less shocking.
Directing the current CPCC Theatre production, Tom Hollis doesn't strain to update the setting or the Dickensian costumes. No, the Halton Theater allows him to present the two-storey partnership between Sweeney and meatpie matron Mrs. Lovett with more chilling realism than panoramic Pease Auditorium could allow as the barber carves up his victims and sends them down the chute to Lovett's meat grinder. The sheer size of the place obliges Hollis to stage the street scenes with an ensemble of two dozen or more for music director Drina Keen to lead in song and Ron Chisholm to marshal in dance.
All this realism may be the reason why the larger cast sings with such palpable conviction. With this Sweeney and all its musical and dramatic challenges, we can now declare that the gap between CP's summer and winter presentations has vanished. James Duke and Rebecca Primm strike an ideal balance between authenticity and theatricality in their highly functional scenic design, with lighting designer Rick Moll and costume designer Jamey Varnadore layering on all the necessary grittiness and squalor.
If you liked Steven Jepson in Man of La Mancha in 2009 – or his Emile in South Pacific back in 2007 – you'll be even more impressed by his latest exploit on the Halton stage. Suffice it to say that Jepson's ferocity and derangement compare very favorably with Stephen Ware's when he won CL's award for Best Musical Actor of 1989. Jepson's voice may be purer and higher, but there's more than enough roughness and fire to the delivery. In the support that he receives from technical director Don Ketcham – in Sweeney's grisly barbershop chair and in the slashing blood effects – Jepson gains a decisive edge.
Sweeney's allies and enemies are also first-rate singers and actors. Kevin Roberge as Judge Turpin is a nemesis of nearly funereal rectitude and corruption, while Stuart Spencer as Beadle Bamford makes for a rather unctuous lackey at the Judge's service. Sara Reinecke as Sweeney's stolen daughter Johanna and Erik D'Esterre as Anthony Hope, the sunny sailor who strives to free her from captivity, are the acme of youthful innocence.
I do wish Hollis had flipped the casting of Rebecca Cook-Carter as Mrs. Lovett and Lisa Smith Bradley as the mysterious Beggar Woman. With her Broadway belting voice, Bradley shows off the benefits of CP's improved sound system, which seems to have licked the thumps, squeals, and dropouts that have plagued it from the day the Halton opened. Cook-Carter gives a wonderfully earthy account of Lovett that will pleasantly surprise her followers, but her operatic delivery exposes the lack of clarity that still haunts the system and turns much of the spirited choral work to indecipherable mush. Still she and Ashton Guthrie, as Lovett's unsuspecting assistant Tobias, have the most touching moment of the night when they sing their "Not While I'm Around."
With iron anti-romantic logic, it turns out to be a mutual reassurance that cancels itself out.
Sweeney is arguably Sondheim's most ambitious work. The "Kiss Me" duet between Johanna and Anthony becomes a full-blown quartet when it's reprised with the Beadle and the Judge, and Anthony's soaring "Johanna" in Act 1 becomes another quartet when the Barker family joins in after intermission. I was very much reminded of Rigoletto when Johanna hid away in her father's barbershop. Compared to that operatic saga about a misguided father, Sweeney Todd ends rather happily.
Now doesn't that sound odd?