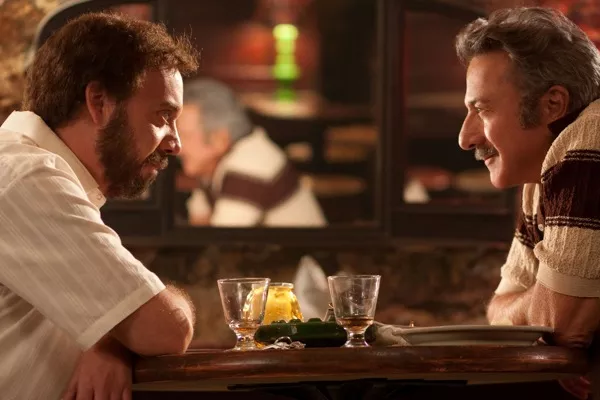 By Matt Brunson
BARNEY'S VERSION
DIRECTED BY Richard J. Lewis
STARS Paul Giamatti, Dustin Hoffman
Paul Giamatti's excellent performance in Barney's Version recently earned him the Golden Globe for Best Actor in a Musical or Comedy, and he certainly deserved the honor over embarrassingly weak competition. What isn't so clear, however, is why this film was thrust into the Comedy category in the first place.
Certainly, this adaptation of Mordecai Richler's novel has its share of gentle laughs, many of them provided by Dustin Hoffman in an ingratiating turn as the father of Giamatti's Barney Panofsky. But ultimately, this decades-spanning look at the life of a moody and often unpleasant man is more about heartbreak than humor, touching upon such subjects as Alzheimer's, infidelity and even murder. Moving back and forth in time, the film allows us glimpses into what helped turn Barney into a far-from-upstanding individual, even if it doesn't always excuse his behavior (for what it's worth, he's surrounded by equally annoying and/or unscrupulous individuals, played by, among others, Minnie Driver, Scott Speedman and the Twilight series' original Victoria, Rachelle Lefevre).
Barney Panofsky is a rich character inhabited by an actor up to the formidable task, although it's worth noting that the Globe win didn't lead to an Oscar nod; instead, its sole nomination is for Best Makeup. It deserves to win over Rick Baker's been-there-done-that work on The Wolfman; frankly, Benicio Del Toro's hirsute countenance is no match for Giamatti's liver spots.