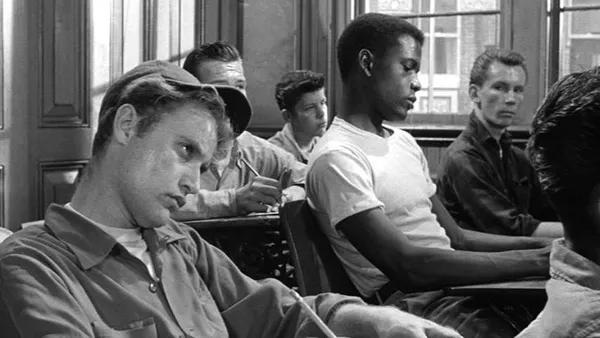 The Harvey B. Gantt Center will present one of Sidney Poitier's most popular pictures, 1955's Blackboard Jungle, on Feb. 13 as part of its Classic International Black Cinema Series.
This explosive picture's greatest claim to fame, of course, is that it was the first movie to include rock & roll music, thanks to the playing of Bill Haley's "Rock Around the Clock" during the opening and closing credits. Reliable Glenn Ford is cast as the idealistic teacher whose new post at an inner-city school tests both his values and his patience as he's confronted by students more interested in rape and robbery than test scores and perfect attendance. Vic Morrow is suitably surly as the toughest of the kids, although it's Poitier, as a cocky student who matures under Ford's tutelage, who makes the strongest impression.
Blackboard Jungle will be shown at 2 p.m. Sunday, Feb. 13, at the Harvey B. Gantt Center for African-American Arts + Culture, 551 S. Tryon St. The cost of the screening is free with museum admission ($8 adults, $6 children & seniors). Details: 704-547-3700 or go here.