The Observer reports today on a new poll by Public Policy Polling, in which more than three-quarters of Mecklenburg residents questioned said they would be OK with paying more taxes to support public schools; almost as many said the same thing in terms of saving the Bright Beginnings pre-K program. If the poll was more believable, this would be wonderful news.
This writer has repeatedly called for a special, targeted tax to support CMS but, barring that, I'd support a small, general increase in property taxes targeted to the same ends; however, it's hard to be enthusiastic about a poll where the questions are skewed in order to get a desired result (in this case, public support of higher taxes for education). Unfortunately, that's the only way to describe this new poll, which asked people, "How much of an increase in local property taxes would you be willing to pay to support Charlotte-Mecklenburg Schools?" If PPP had asked, "Would you support a tax increase to support the schools?," and then went on to ask those who answered "yes" how much of an increase they'd support, the results would feel much more reliable. It's simply too leading to ask "How much of an increase would you be willing to pay" — it's tantamount to a nonprofit's fundraiser asking, "How much can we put you down for?"
It's no secret that poll results can be manipulated by asking questions a certain way. Both liberal- and conservative-leaning polls do it all the time. The surprise in this case is that PPP, although admittedly left-leaning, has had a good reputation for conducting "straight-up" polls, despite conservative complaints that it is biased against them.
Sad to say, my first doubts about the poll arose when I read, "80 percent of those surveyed are aware of the state's $3.7 billion budget deficit." I'm sorry, but I live in this county, too, and deal regularly with "the public," and I simply don't believe that there are 8 out of 10 county residents who know much of anything about state government, much less the precise amount of its budget deficit. That may sound awful, but you know it's true. Afterward, when I saw the leading nature of the poll questions' phrasing, my fears were confirmed.
This county certainly needs to find ways to increase funding for public schools, including the Bright Beginnings program, and a mild tax increase seems the quickest way to do so. From purely anecdotal evidence gathered while talking to many people about the issue, my guess — and it's only that — is that about half of Charlotte residents would support a small tax increase if it was targeted to schools. The biggest problem for anyone supporting a small rate hike, however, is the lack of support on the County Commission for such a move. As Commission Chair Jennifer Roberts told us last week, "I do not anticipate raising the tax rate — I don't think there's any support for that." Maybe Ms. Roberts is talking to the wrong people. But, the real problem with the new PPP poll is that there's still no way to know for sure.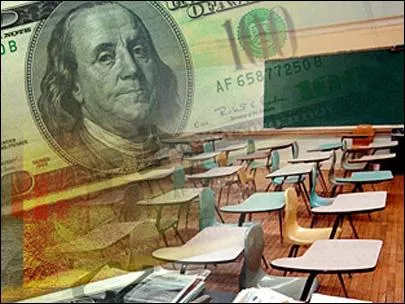 School days: It's all about the Benjamins