Austin, Texas has a reputation as one of the most open-minded, music-oriented and absurdity-friendly cities in America. It's what you'd expect from a city whose unofficial motto — and official slogan of its Independent Business Alliance — is "Keep Austin Weird." Here in overly straitlaced Charlotte, where you kind of expect the ruling Presbyterians to start denouncing Methodists as "rowdy punks," we could use a good dose of whatever they've been smoking in Austin, if only to provide our city's culture with a looser sense of humor.
Case in point: Austin is looking for a new name for its Solid Waste Services Department. Pretty dull, mundane stuff, right? Well, not in Austin. The department set up an online poll to get suggestions for a new name. The top choice so far? "The Fred Durst Society of the Humanities and Arts." You're right: makes no sense at all, which, of course, is the beauty of the humor in it. Naming your garbage pickup after the leader of Limp Bizkit is some type of comic genius. The really funny thing is that "The Fred Durst Society of the Humanities and Arts" leads the poll by a huge margin. Second and third choices are "Department of Neat and Clean" and "Ministry of Filth." Other picks down the list include "Austin Dept. of Are You Gonna Eat That?," "Dirty Deeds Done Dirt Cheap," and, keeping in mind that Austin is home to the U. of Texas, "Texas A&M University." For the latest results, and more goofy suggestions, click here.
By the way, Jennifer Herber, the public information officer for Austin's Solid Wastes Services, says the poll is proving to be fun, but, "Unfortunately, we're not going to be able to go with that name. It doesn't reflect what we really do."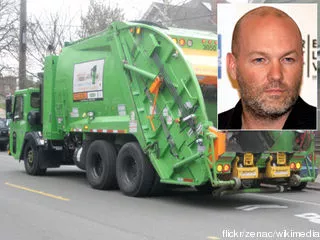 Who you gonna call for waste pickup? Austin's Fred Durst Society of the Humanities and Arts