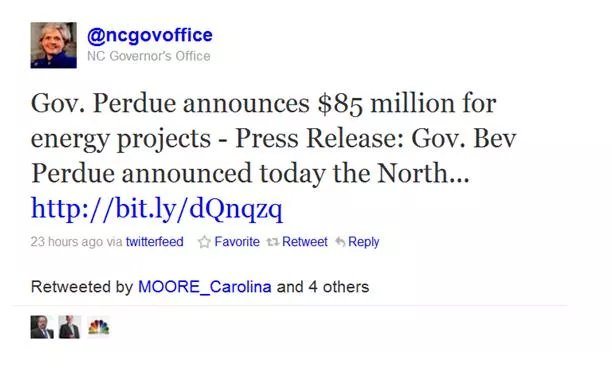 Oops: Typo alert. $8.5 million - emphasis on the '.'
This is good news for our energy-hub wantin' to be city. Here's more from the Associated Press and The Charlotte Observer:
Gov. Bev Perdue has awarded $8.5 million in federal stimulus funds to 43 public and private agencies and organizations -- 14 in the Charlotte region -- to promote energy conservation and use of renewable fuels.

The grants were given to local government, private industry and other organizations.

In addition to promoting energy conservation, the grants also are designed to create new jobs. North Carolina has distributed about 90 percent of the federal stimulus money it received for energy conservation use.

The grants were in three different area -- Main Street projects, which need at least 50 percent fund matching from other sources; Commercial Renewables Initiatives; and Energy Efficiency for Commercial, Industrial and Nonprofits.
Read the rest of this article, by Steve Lyttle, to find out who and what the grants are going to.
Rhiannon Fionn-Bowman is an independent journalist who contributes commentary on Creative Loafing's CLog blog four days a week in addition to writing for several other local media organizations. To learn more, click the links or follow Rhi on Twitter.