"Jester and Bone" (detail; oil on canvas) by Ed Harris, on display at Green Rice Gallery
I "Heart" Art. Shoot that poison arrow through my Art. How many other puns can we attach to heart and art? For a month surrounded by romantic legends — both fable and foible — it's hard to avoid all the pun-tificating. It will also be hard to miss all of the activity tonight on our local gallery scene for this 'First Friday' of the month gallery crawl.
* Beginning at 6 p.m. at Green Rice Gallery, 451 E. 36th St., is the 2nd annual juried art show, North to South. This year, juror Susan Brenner, Associate Professor in the Department of Arts at UNC-Charlotte, has chosen 53 artists to participate in the exhibition. A recent recipient of the Pollock/Krasner Grant, Brenner will be choosing the first, second, and third place prize winners. The artists involved all hail from North and South Carolina and will represent a variety of medias to be on view in this diverse show. North to South is up through Feb. 27.
* Just down the road at 136 East 36th St., beginning at 7 p.m., is Showdown, a juried exhibition at Hart Witzen Gallery. The prize awarded to the artist here is Best in Show and is to be decided by popular vote cast by attendees and announced at the closing reception on Feb. 18. That latter event will also feature artist talks and musical performances. You can expect to see local favorites like Lori Love Penland, David French and Linda Luise Brown. As for tonight's opening reception, it will close with a bonfire at 10 p.m.
* At the Evening Muse, just across the street from Green Rice Gallery (at 3227 N. Davidson St.), there are new works on display by local artist Ralph Jannelli through the end of the month. This new show is titled Reconstructing Rorschach. This is a literal interpretation into Ralph's process that begins with two inkblots that are cut into strips and reconfigured by assembling this new composition with various layers of mixed media effects and then encased under a hardened epoxy coating. "Ralph has emerged with a unique style of 'Psychoabstract Expressionism' that you are sure not to find anywhere else," notes the Evening Muse's p.r. statement.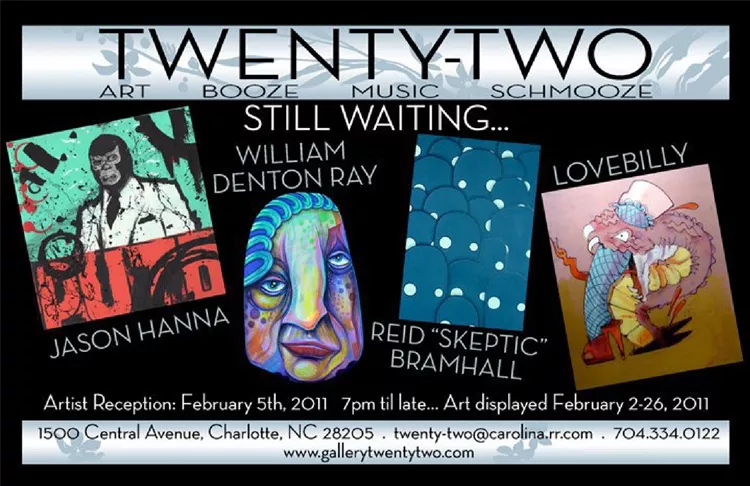 * If you still haven't gotten your art fix by the end of tonight, head over Gallery Twenty-Two, 1500 Central Avenue, on Saturday for the opening reception of Still Waiting …, with artists Jason Hanna, William Denton Ray, Reid "Skeptic" Bramhall and LOVEBILLY.
There's plenty to enjoy this month as well as plenty of romantic date events that don't require waiting until V-Day.