Check out these events going down in Charlotte and the surrounding area this weekend— as selected by the folks at Creative Loafing.
Friday, Feb. 4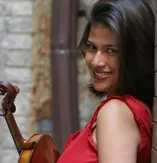 Charlotte Symphony's Tango & Tapas
Knight Theater
Charlotte Symphony goes international during its latest Tango & Tapas shindig. The concert will feature exotic music from four Latino countries (Argentina, Brazil, Mexico and Puerto Rico) with a guest appearance by soloist Elena Urioste (pictured). Arrive early for pre-concert cocktails and appetizers. Also, wear your dancing shoes, as there will be a post-concert dance party at the Mint Museum Uptown.
• Theater The atmosphere is cold at Warehouse Performing Arts Center up at Lake Norman. Currently its staging performances of British playwright Bryony Lavery's 1998 play, Frozen. Revolving around the disappearance of a 10-year-old girl, three characters' lives become intertwined. This includes the girls mother, the girls killer and a doctor bent on understanding the criminal mind and the powers of forgiveness. more...
• Film This evening, Waking Sleeping Beauty will be presented by AIGA Charlotte and UNC-Charlotte's AIGA Student Chapter in collaboration with Charlotte Underground Film Festival. The film follows Walt Disney's animation shortcomings and its rise to the top with a steady stream of classics. more...
Saturday, Feb. 5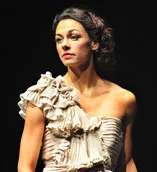 Runway for the Ballet
North Carolina Dance Theatre
Spring is just around the corner, which means it's time to start worrying about the wardrobe. Luckily, folks attending North Carolina Dance Theatre's Runway for the Ballet will get to peek at a roundup of some of the spring's high-fashion trends, as selected by Neiman Marcus. In its fourth year, this shindig — benefiting NC Dance Theatre — is also slated to feature hors d'oeuvres and vignettes from NCDT's Innovative Works.
• Benefit Davidson Housing Coalition's annual Souper Bowl VII has nothing to do with football and everything to do with soup. The cook-off features an assortment of tasty soups from Lake Norman area restaurants. Those attending vote on their faves in a range of categories. And, it raises money for a good cause, the Davidson Housing Coalition. Arrive early, as the event is usually sell out. more...
• Festival Head over to UNC Charlotte today for the Chinese American Association of Charlotte's annual Chinese New Year Celebration. The daylong event will feature music, dance, karaoke, food and more. more...
Sunday, Feb. 6
What My Husband Doesn't Know
Ovens Auditorium
Playwright David E. Talbert's What My Husband Doesn't Know, is a suspenseful drama about a successful husband, a lonely wife, and of course, another man. The play stars Michelle Williams from Destiny's Child, and the very sexy Brian White, known for his several roles in TV and film including, Stomp the Yard and Men of a Certain Age.
• Food Burgers or sushi? The Angus burger at Cowfish Sushi Burger Bar is among the best in town. But, the more adventurous foodies might opt to try the burger/sushi fusion. more...
• Special Event Uptown Cabaret hosts its S.I.N. Sunday Super Bowl Party, featuring a complementary buffet and drink specials ($3 Longnecks and $4 U Call Its), followed by an amateur hottie contest. more...