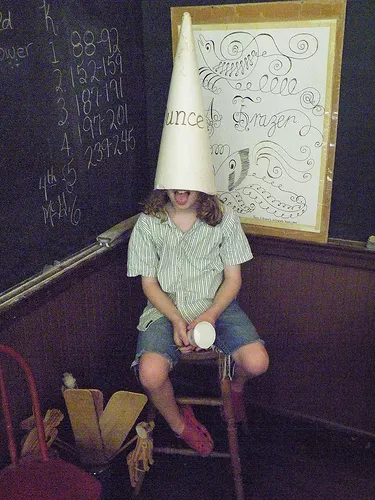 Thanks to kmakice for the photo.
I'd like to know how future generations are to compete globally if they aren't well-educated — and I mean all of them, not just the wealthy students or the this-or-that students. All of them. Can someone please explain?
From the Associated Press:
Very few students have the advanced skills that could lead to careers in science and technology, according to results of a national exam released Tuesday that education leaders called alarming.

Only 1 percent of fourth-grade and 12th-grade students, and 2 percent of eighth-graders scored in the highest group on the 2009 National Assessment of Educational Progress, a federal test known as the Nation's Report Card. Less than half were considered proficient, with many more showing minimal science knowledge.

"It's very disappointing for all educators to see students performing below the level we'd like them to be," said Bonnie Embry, an elementary school science lab teacher in Lexington, Ky. "These low scores should send a message to educators across our nation that we're not spending enough time teaching science."

U.S. Education Secretary Arne Duncan said the results mean students aren't learning at a rate that will maintain the nation's role as an international leader in the sciences. He and others expressed concern that more students aren't prepared for careers as inventors, doctors and engineers in a world increasingly driven by technology.

"Our ability to create the next generation of U.S. leaders in science and technology is seriously in danger," said Alan Friedman, former director of the New York Hall of Science, and a member of the board that oversees the test.

The results also show a stark achievement gap, with only 10 percent of black students proficient in science in the fourth grade, compared to 46 percent of whites. At the high school level, results were even more bleak, with 71 percent of black students scoring below the basic knowledge level, and just 4 percent proficient.

Fifty-eight percent of Hispanic 12th-grade students scored below basic, as did 21 percent of whites.

"These are really stunning and concerning numbers," said Amy Wilkins, vice president for government affairs and communications at The Education Trust. She noted that minority and low-income students are the fastest growing parts of the youth population, making the need to increase their achievement levels all the more urgent.

The exam tests knowledge and understanding of physical, life, Earth and space sciences. Examples of skills students need to demonstrate to perform at the advanced level include: designing an investigation to compare types of bird food in fourth grade; predicting the sun's position in the sky in eighth grade; and recognizing a nuclear fission reaction for those in 12th grade.
Read the rest of this article, by Christine Armario, here.
Rhiannon "Rhi" Bowman is an independent journalist who contributes commentary on Creative Loafing's CLog blog four days a week in addition to writing for several other local media organizations. To learn more, click the links or follow Rhi on Twitter.