Shock Corridor (Photo: Criterion)
By Matt Brunson
SHOCK CORRIDOR (1963)
DIRECTED BY Samuel Fuller
STARS Peter Breck, Constance Towers
THE NAKED KISS (1964)
***1/2
DIRECTED BY Samuel Fuller
STARS Constance Towers, Anthony Eisley
Two of The Criterion Collection's earliest titles — a pair of Samuel Fuller gems first released by the outfit in 1998 — have been brought back in new editions.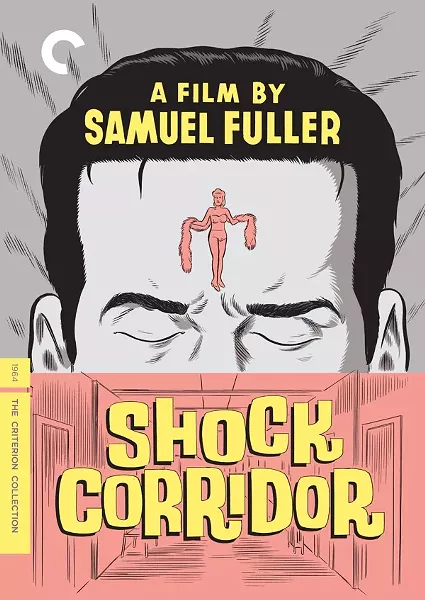 The notorious cult classic Shock Corridor, added to the National Film Registry in 1996, finds self-satisfied newspaper reporter Johnny Barrett (Peter Breck) angling for a Pulitzer Prize by pretending to be insane in order to enter a mental institution and solve the murder of one of the inmates. His stripper girlfriend (Constance Towers) thinks it's a bad idea and is proven right once Johnny begins his own descent into madness. Evocatively shot by Stanley Cortez (The Night of the Hunter) and serving as a fascinating microcosm of an America driven mad by its own eager embrace of war, racism and fear, Fuller's appropriately lurid picture includes scenes that manage to be simultaneously risible and disturbing (e.g. "Nymphos!").
The Naked Kiss is even better, exposing the hypocrisies of small-town USA in flagrantly Fullerian style. Shock Corridor co-star Constance Towers delivers a fine performance in a meaty role: She plays Kelly, a prostitute who, after beating the hell out of her pimp in the movie's delirious opening scene, ends up in a little burg where local police captain Griff (Anthony Eisley) sleeps with her and then informs her that her kind isn't welcome in his city. He helpfully steers her to the bordello across the river, but suddenly deciding she wants a new life, she instead lands a job overseeing crippled children at the local hospital and soon finds herself wooed by the town's wealthiest citizen (Michael Dante). Will it all be uphill for Kelly now? Not so fast. The Naked Kiss is absorbing from first frame to last, with some marvelously pulpy dialogue ("I'm pretty good at popping the cork if the vintage is right," Griff tells Kelly in a loopy bit of double-entendre) and a few genuine shocks in the narrative.
DVD extras on Shock Corridor include 1996's The Typewriter, the Rifle and the Movie Camera, an hour-long documentary on Fuller (featuring Tim Robbins, Martin Scorsese, Quentin Tarantino and Jim Jarmusch); a half-hour interview with Towers; and the theatrical trailer. DVD extras on The Naked Kiss include three TV show interviews with Fuller (from 1967, 1983 and 1987) totaling 68 minutes; a half-hour interview with Towers; and the theatrical trailer.
For reviews of more new DVD and Blu-ray releases, check out tomorrow's View From The Couch column here at www.clclt.com/film.