Check out these events going down in Charlotte and the surrounding area this weekend— as selected by the folks at Creative Loafing.
Friday, Jan. 28
Ain't Misbehavin'
McGlohon Theatre
Swing is in the air, as On Q Productions' Ain't Misbehavin' takes a romp through the Harlem Renaissance era. The three-day run is based on the book by Murray Horwitz and Richard Maltby Jr. with music by Thomas Wright "Fats" Waller. Performers — backed by the Sign of the Times band — will reconstruct popular songscapes of the 1920s/1930s and pay tribute to the legends that created them.
• Theater Religion and sexuality collide in Queen City Theatre Company's latest theater production, Southern Baptist Sissies. The play follows the lives of four homosexual guys, struggling to keep their faith as it clashes with their hormonal desires — deemed as "evil" by the deep Southern Baptist church they attend. From laughter to tears, the show takes its audience on an emotional holy ride with some much-needed lessons in tolerance. more...
• Food Described as "New Asian," Kalu Asian Kitchen offers up a menu of Japanese, Chinese and Korean fares. The kitchen excels at meat and sharable dishes. more...
Saturday, Jan. 29
What My Mother Told Me: The Art of Maria Magdalena Campos-Pons
Harvey B. Gantt Center for African-American Arts + Culture
Afro-Cuban artist Campos-Pons uses her own cultural heritage and history to explore concepts of the self (body and identity) in this new exhibit. Known for expressing herself through means of paintings, installations, sculptures, video and poetry, Campos-Pons' showcase looks like it'll leave you contemplative.
• Music It's time for another Tosco Music Party, so prepare for your sound palette to be on overload. John Tosco's local music fiesta features a hodgepodge of music acts from around the Q.C. Current performers on the roster, include Ellis Paul, Mark Kroos, The Cloers, The Garvin Dean Project, Craig Carothers, Desmond Myers, Miss Tess & The Bon Ton Parade, Now You See Them, Orrin Star, Pop Ferguson, Rachel Platten and the Providence High School Ensemble. more...
• Film The Main Library pays homage to another Orson Welles gem today. Drop by ImaginOn's Wachovia Playhouse for a free screening of 1948's The Lady from Shanghai. more...
Sunday, Jan. 30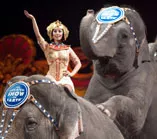 Ringling Bros. and Barnum & Bailey Circus
Time Warner Cable Arena
Ringling Bros. and Barnum & Bailey Circus is flat-out old. The company has been providing captivating performances to both children and adults since 1871, which amounts to a whopping 141 years. Craziness. Pegged as "The Greatest Show on Earth," it features a string of performances from illusionists, magicians, acrobats, clowns, animals and more. If you've never been or want to see the show again for old time's sake, check it out.
• Special Event During the Charlotte Oyster Roast at Growler's PourHouse you'll find more than just oysters. Live music will also be included in the mix and certainly beer. As the ol' saying goes, "The world is your oyster." more...
• Theater Celebrity Autobiography: In Their Own features performers who read and articulate a number of goofy passages from the autobiographies of superstars. This includes selections by Suzanne Somers, Tiger Woods, Britney Spears, Vanna White, David Hasselhoff and more. The show is hands down hilarious. Be prepared to laugh a lot. more...